With the aesthetics of a restaurant these days as important as the food on offer, interior designers and architects are creating bolder, more luxurious spaces than ever; places that allow the diner to indulge their senses as much as themselves. And its not just extravagant restaurants. More affordable eateries are being creatively and conceptually designed than ever: ice-cream shops and independent coffee bars giving big-name designers a run for their money.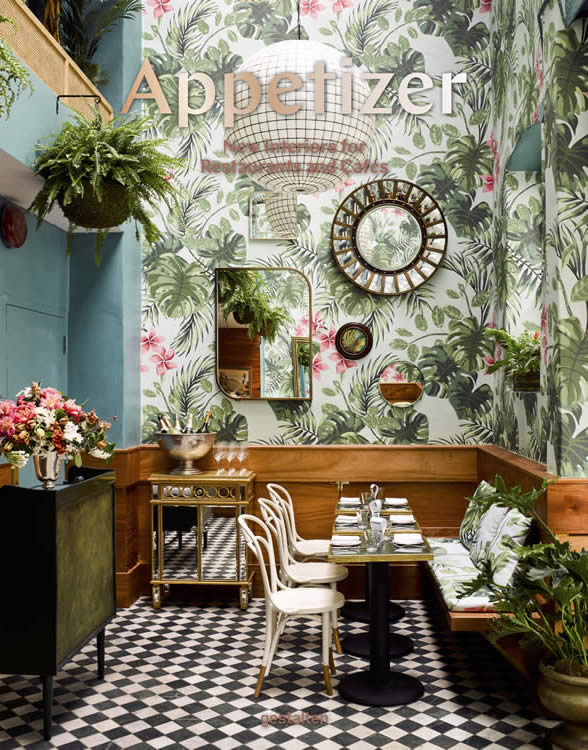 Appetizer, a new 272-page hardback from publishers Gestalten, is a compilation of some of the most eye-catching restaurants, bars and cafes from around the world. Whether a hyper-realistic mural, living wall, indoor jungle, or simple pastels paired with extravagant furnishings, this tome will satisfy the visual hunger of every design lover.
Many of our very own favourites feature throughout the publication — like Adelaide's Pink Moon Saloon, built to resemble a wilderness hut and found squeezed into the laneways and side streets of the city's foodie quarter; recognisable by its vivid blue door and tight measurements. Fanaberia Crepes & Cafe, in Sopot, Poland, instils a bright and cheery vibe, reminiscent of its seaside location; designers PB/STUDIO creating 'a juxtaposition of light off-white shades, and vivid colour accents of azure, navy and ginger'.
Tiramisù Delishoes delivers an unconventional but inspired coupling: part dessert bar, part shoe store in the hip Brera Design District of Milan. On the ground floor customers can get their sweet-tooth fixes, whilst downstairs a refined restaurant sits amid a resplendent retail area that is filled with shoes and fashion accessories.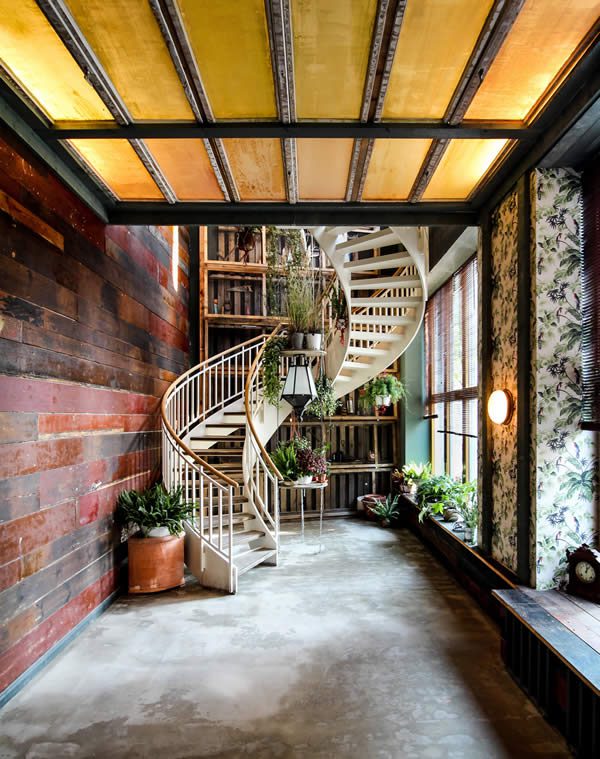 In the realm of 'bringing the outdoors indoors', Studio Modijefsky designed Bar Botanique to make use of palm trees, ferns, philodendron, and monsteras to fill labyrinthesque spaces that complement high ceilings and lashings of natural light. For those partial to kitsch, Leo's Oyster Bar in San Francisco — designed by Ken Fulk with Jon de la Cruz — employs opulent and cosy in equal measures. Fashioned after the great cocktail and oyster bars of the golden era, Leo's features a helping of mid-century sleek combined with a heavy touch of the exotic; from the light- and fern-filled conservatory to whimsical floral patterns, Murano blown-glass fish figurines, hints of vintage 1950s Hawaii, gilt scallop shell sconces, and bamboo-caned barstools. Other lush interiors include El Mama & La Papa in Barcelona, Madero Guatemala City, and La Parada del Mar, Cape Town.
As creatures who crave colour, light, and nature, these lush urban oasis represent the most striking of recent trends in restaurant design and interiors; and hint at how newly-opened spots in the coming year might look. Appetizer: New Interiors for Restaurants and Cafés is available now from Gestalten.
The countless beautiful interiors featured throughout also include the following We Heart favourites: Vancouver's Osteria Savio Volpe; Restaurant Panache, Paris; SHUGGA Bangkok; dinette in Wroclaw; Happyhappyjoyjoy, Amsterdam; the Berlin outpost of House of Small Wonder; Mrs Pound, Hong Kong; The Roast Room, Amsterdam; La Manera, Valencia; Mad Giant Beer in Johannesburg; PS156, Kuala Lumpur; Moby 3143 and No. 19 in Melbourne; Nanan Wroclaw; Clerkenwell Grind, London; Berlin's Panama Restaurant & Bar; Treves & Hyde, London; Eden Locke, Edinburgh; Somos and Bar Garra, Madrid; and Wes Anderson's Bar Luce at the Fondazione Prada, Milan.