Via a considered use of materiality — think natural stones and timbers; ceramic; concrete; brass and blackened steel — playing out against a bold backdrop, a new neighbourhood restaurant and bar in East London delivers the sort of multifunctional, social-first space that today's co-existing millennials so crave.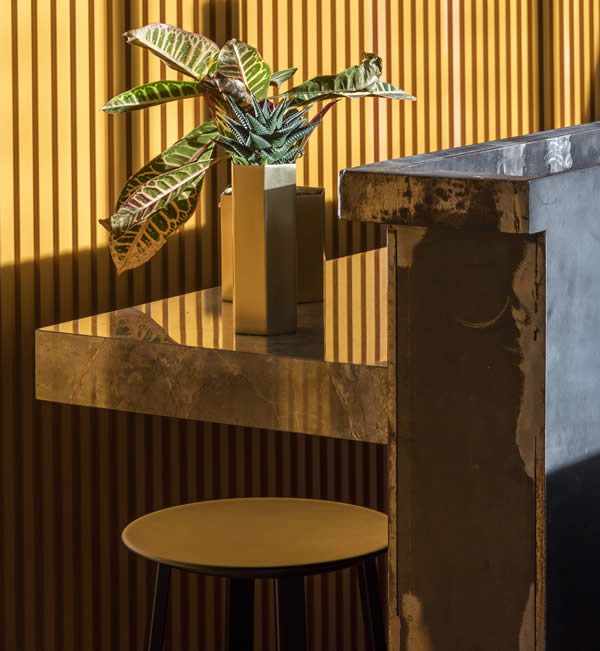 Designed by New York practice Grzywinski+Pons, Whitechapel's Treves & Hyde features flexible seating and a plethora of power points — meaning that its diners feel comfortable to stay beyond the 'standard' hours of eating or socialising; indulge in a spot of work, arrange a meeting, kick back from the grind. Set over two floors, the bar is located on ground level, whilst restaurant Treves is up on the first, and capable of seating upto 60 diners.
The café is open from 7am, with head barista James Wise on hand to turn out a variety of espresso-based drinks using Assembly coffee; take away food is available throughout the day, too. Open for lunch and dinner, the restaurant leans heavily on seasonality with a daily changing menu that sees dishes like seared tuna with edamame, carrot and nori seaweed crisp, and venison tartare with truffle and burnt ketchup satisfy its restless clientele; an extensive cocktail and wine list complement the inclusive menu.
Grzywinski+Pons's signature way with materials and delicate hues sees rough edges and smooth aesthetics sing harmoniously, nature plays its part with sunlight drenching the space in atmospheric shadows. Lush vegetation in aged terracotta and sunshine yellow continue a thread where nature plays its part in a welcome, social environment; formal or casual, Treves & Hyde is a forward-thinking venue put together by forward-thinking designers. Win, win.