When you stumble across a craft beer bar founded by a chemical engineer, you can hedge your bets that you're going to be on to a good thing.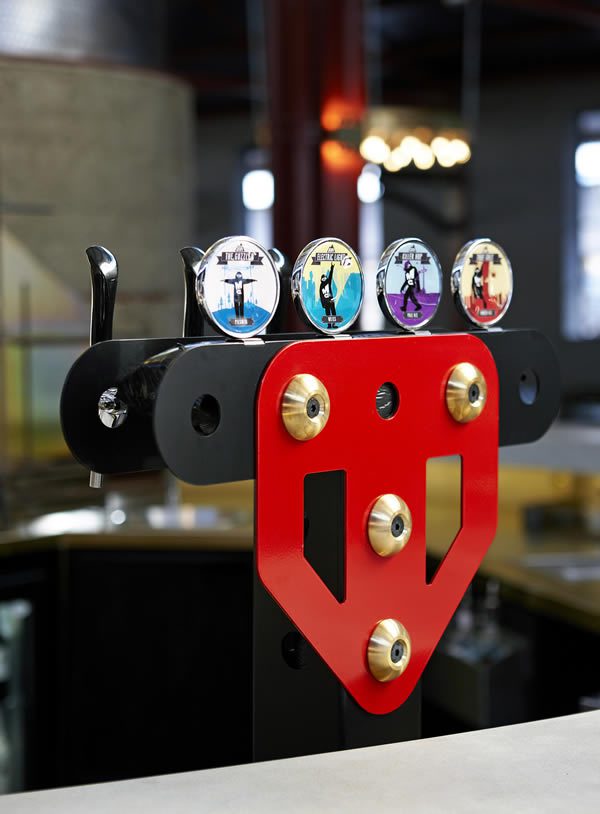 Located within downtown Johannesburg's arts, craft, music, and food and drink regeneration development, 1 Fox Precinct, Mad Giant Beer (conceived from a 'desire to conquer the world, make a difference, and take chances with no fear of the outcome), produces what they call bold and audacious beers, using ingredients from four continents; each bearing gruff titles, like Killer Hop and True Grit.
To help realise a singular vision of toying with scale through dramatically oversized metal toy construction kits, founder Eben Uys enlisted the expertise of interior designers Haldane Martin, who filled the industrial space with bespoke furniture and lighting — custom-making scaled up renderings of Meccano, alongside seating, giant murals, feature pendant lights, and green distressed leather seating. The award for most eye-catching feature, however, surely goes to the seven metre-tall sasquatch figure who looms high above a concrete bar that has been designed to resemble a giant bottle cap.
If all of this uninhibited creativity makes you hungry, Angelo Scirocco (formerly of highly-regarded Cape Town restaurant The Test Kitchen) heads up the brewery's restaurant, Urbanologi, which is on hand to serve up Asian street food with a combination of umami tastes that counterpoint Mad Giant's artisan brews.