Giving a space warmth and character within the walls of a cold new-build is always hard, but when the classic Italian osteria — the tradition-based precursor to the public house — is your point of reference, with its roots in family, neighbourhood, and heritage, it was a feat that needed to be pulled off to perfection.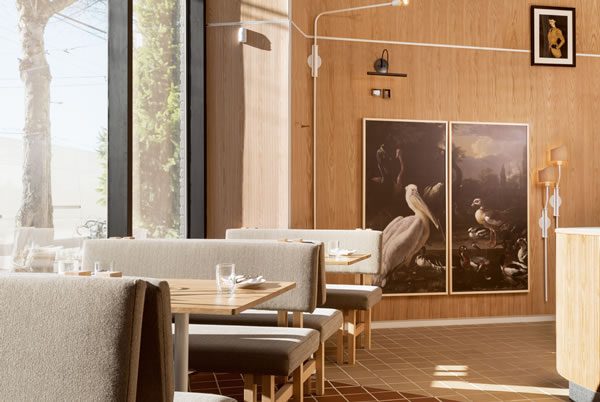 Here in Vancouver, Osteria Savio Volpe's three owners (Mark Perrier, Paul Grunberg and Craig Stanghetta) can dish out a round of mutual pats on the back; design, cuisine, service and bags of vibes synchronised to perfection. The design looks to Italian tradition; wicker, wood, and natural stone are heavily utilised, yet the overall aesthetic manages to come over cutting-edge too. Abstract artworks and innovative lighting details rub shoulders with overt retro influences; a centre kitchen — where simple Italian dishes are prepared on the wood fire grill and spit — adds a little theatre. It's a considered concept that has been nicely realised.
Propping up the heart of Vancouver's up-and-coming Fraserhood, Osteria Savio Volpe keeps informality high on its agenda throughout; the aforementioned spit is used to deliver suckling pig porchetta with crackling and salsa verde, handmade pastas accompany meats fired on the grill … spritzes and Negronis join an all-Italian wine list and craft beers in washing down the treats from head chef Derek Gray's kitchen. Saluti.