New multi-purpose space PS156, located on the site of the formerly derelict Hotel Mah Lian in Kuala Lumpur's Chinatown district, joins a deluge of nicely-curated cafés and hip(ster) bars; catering to the area's growing creative community who are witnessing the march of gentrification in KL.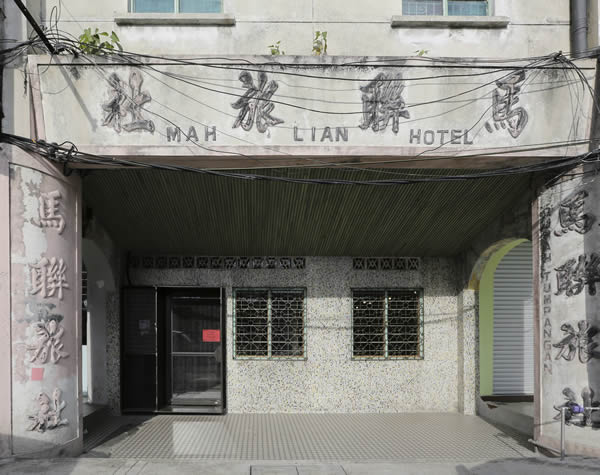 Currently a restaurant-café, coworking space and harbouring plans to add a wine bar, bicycle repair station, pop-up store and a mini library, PS156 is a project led by design architects Shin Chang and Penny Ng of Mentahmatter Design — who acquired the property complete with a collapsed roof, crumbled flooring and just the front and back façades fully intact. In short: a bit of a mess.
With a clean slate to realise their dreams, Shin and Penny were able to devise a plan of how to remodel the space with the added advantage of salvaging some of the decaying property's charming original features: pastel coloured wall tiles, clay roof tiles and the original Hotel Mah Lian signage; which serves to add a certain intrigue for the public.
Split over two levels, the ground floor houses Chocha Foodstore — which the design duo now run together — a place for clients to sit (Cho) and drink tea (Cha); surrounded by the sort of industrial ruin that could send urbex Instagrammers into a fit of self-combustion, and natural sunlight that casts oft-ethereal shadows throughout the day. Creative spaces are dotted around the ground- and first-floor, solid walls downstairs creating a more private space that is juxtaposed by upstairs' raftered openness.
Not so much a case of what's been brought into the old hotel, rather a design-led shrine to its past, PS156 is a lesson in gentrification done good. Chinatown's singular charisma remains intact, hungry creatives get a new place to be; here's to Shin Chang and Penny Ng's win-win project being a blueprint for the neighbourhood's near future.