Happyhappjoyjoy, beams the sign from within this restaurant on Bilderdijkstraat in Amsterdam, and I'm half expecting to be greeted by a Ren and Stimpy theme running through the vibrant dining areas. But no, the only discernible link to the cheery cat and his irascible Chihuahua friend is the name, and there's no trace of the cartoon duo inside.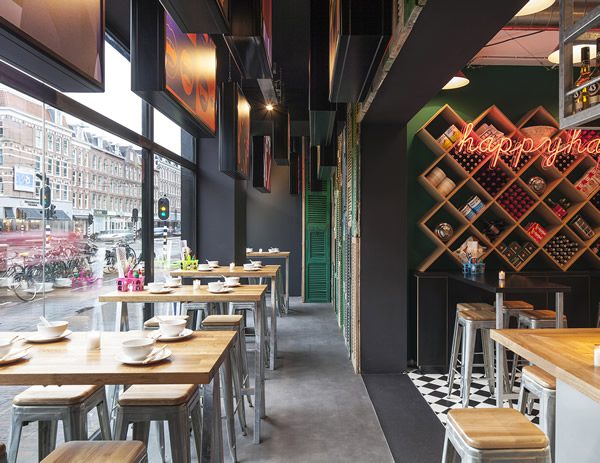 Instead, Dutch design studio concrete has festooned the place with Asian pop culture and retro kitsch imagery that takes guests on a whistlestop tour of Thailand, Vietnam, Indonesia, Malaysia, and China among other countries.
A canopy of paper parasols gives one South East Asian space a distinctive red glow, while another adjacent area employs a smoother and uncluttered Korean-influenced industrial design with front row seats to the semi-open kitchen. Passers-by will be drawn to Happyhappyjoyjoy from the adjoining alleyway; an installation of 18 colourful graphic lightboxes float just behind the front window, their contemporary look in counterpoint to a wall of salvaged louvre doors that continues in an arch over the entrance. The front bar, equipped with wooden-topped Tolix chairs, serves as the restaurant's takeaway hub. The venue's private dining area is decorated with a cracking arrangement of 99 coloured sushi plates, and can be closed off with glass-panelled steel doors.