La Manera is the latest hospitality project from the very excellent Valencia- and Madrid-based creative consultancy, Masquespacio. Located in the heart of Valencia, La Manera is a gastrobar concept adaptable to both day and night; be it your port of call for a morning coffee, craft cocktail to end a long day, or all else in between.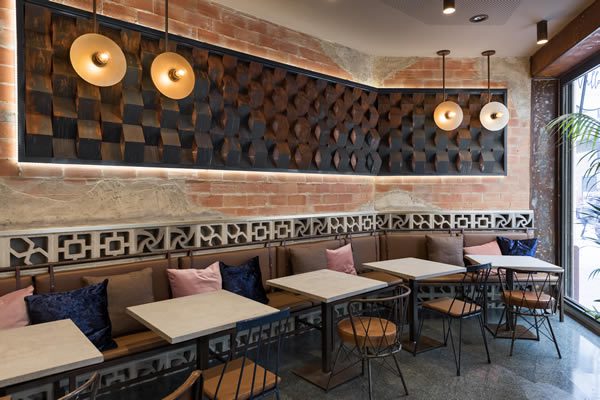 Masquespacio's crafty use of natural materials enhance the fresh approach of the food and beverage on offer here; the studio recovering the building's existing brick walls and using a rusty finish to metallic elements throughout walls, lamps and the bar. It all makes for moody mark of sophistication, that suits the finesse of the creations that La Manera's mixologists will be serving up come nightfall.
Of course, the eatery's Mediterranean orientation has not been overlooked, Masquespacio installing a lattice wall for lush greenery and colourful plants to wrap themselves in and around; the freshness of the bar and kitchen's offerings complemented and the austere industrialism tempered. Nailing every bit of a wide brief, La Manera's designers have served up a winning formula that will take the Valencian social scene from coffee to cocktails in serious style.