A colourful interior hides behind an intricately-patterned brick and terracotta façade in London's fashionable Clerkenwell. Housing the latest 'Grind' coffee and cocktail bar, the Grade II heritage-listed warehouse fuses an elegance and vibrancy that spans two floors and four distinct zones.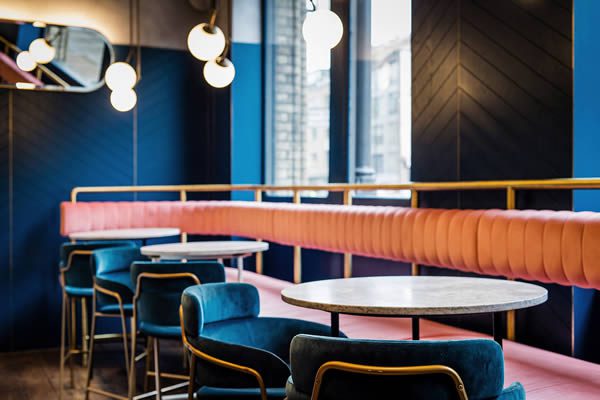 Melbourne-based design studio Biasol led the project, which marks their 8th collaboration with Grind — this time sourcing top-grade design goodness from far and wide — Denmark to India, the United States to Australia, and beyond — all in the name of redefining the brand's visual language, and setting forth a new direction for future venues.
A new flagship for the brand, Clerkenwell Grind boasts a main dining room that occupies the ground floor, providing diners with a dynamic new take on the contemporary British dining experience, and a more intimate basement that houses a small bar, nightspot and open kitchen. Light and graceful furniture fills each space — dusky pink velvet upholstered Ferm Living chairs are a We Heart favourite.
Moody lighting, plenty of marble, slender brass lamps, and worn timbers … each and every material and fitting coalesced with a sense of sophisticated harmony — a fancy departure from the daily grind.