Bold move, naming yourself with a confident expression of flamboyance and of zest; we're in Paris, though, the land of self-assurance and éclat. Occupying the corner of rue Faubourg Montmartre and rue Geoffroy Marie, Hotel Panache isn't afraid to sing loudly of its own style and poise.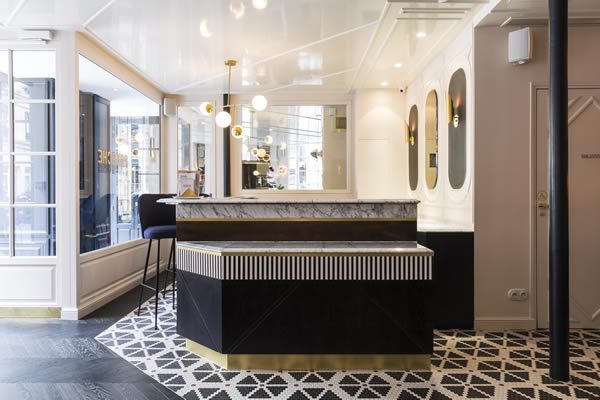 Following from the 2012 opening of his Hôtel Paradis, emerging hotelier Adrien Gloaguen has again enlisted the design chops of Dorothée Meilichzon, who adds to her growing list of Art Nouveau-inflected Parisian hotels; Hôtel Bachaumont and The Grand Pigalle Hotel to a very classy quartet.
So, Panache, has it got it? In abundance, Meilichzon's touch for bringing yesteryear bang up to date is evident again — the designer's fusion of contemporary and classic is a rare and beautiful thing; those early-1990s influences marched into the 21st century with plenty of the requisite flamboyance and zest. 40 bedrooms, across seven floors, occupy the 19th century property that was formerly Opéra-Madrid, a flagship for a district that drips all that naughty Parisian nightlife; nudes, and feathers, and cabaret dancers.
Once the Zazou pastry shop, the street level space to the left of the hotel's reception is now a restaurant under the direction of David Lanher; good food at good prices is the promise, and a scroll through the hotel's Instagram confirms that they're coming good on the former at least. Local artisans are collaborated with throughout, too — stationary from La Petite Papeterie Française, mini-bar chocolates from La Mère de Famille — as the quintessentially Parisian hotel pushes its credentials as a true 'neighbourhood spot'. Panache? You bet.