A former gym turned local café has been converted into a tropical sanctum; a designer wilderness where you could get lost for nearly 24 hours; be it mulling over the day ahead with your morning flat white, tucking into dinner with pals, or supping on a cocktail in the early hours of the morning.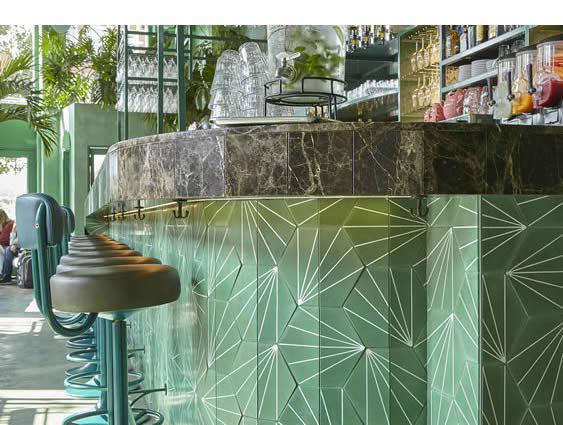 Located in the very hot-right-now Amsterdam East, plants feature heavily in the aesthetics — palm trees, ferns, philodendron, and monsteras filling the labyrinth space of the aptly named Bar Botanique. Double high windows allow for plenty of natural light which, highlighted by lamps, creates striking shadows on the ceiling and walls; a varied use of colours (pink and green walls, a green-tiled bar, blue bar stools) adding a certain Art Deco appeal.
Studio Modijefsky, who designed both the brand identity and the interiors, were keen to respect the history of the building, retaining original railings, and nodding to its former use through new elements; notably the gymnasium style rings that suspend planters, and geometric hanging mirrors. As lush as an interior could be, Bar Botanique is a prime spot for Amsterdam's cool cats to stray off the path — with opening hours of 9am till 1am (3am at the weekends), expect plenty of missing-in-action calls.