Mentally (or physically, if you're sadistically-natured) gather up some antiquated home improvement tools – think rusty hacksaws and dilapidated drills – toss them into a grubby old sack, add plenty of cheap booze, a handful of phak chi (Thai coriander), a large decanter of carbon monoxide and a litter of young puppies. Now, shake vigorously with fiendish intent before dispensing the mixed ingredients onto a bed of rice noodles. Et voilà: Bangkok street food avec atmosphère authentique. And, boy, does it taste good…
I arrive in March a Bangkok virgin, tales from friends, acquaintances and the media ringing in my starry-eyed lugholes – I imagine chaos, pollution, noise, sex and hedonism. I'm neither surprised nor disappointed, the streets are as frenetic, the lifestyle as fraught and the ladies as boy as you can even begin to imagine. Sure, tighter regulations on the city's nightlife may mean that Bangkok is no longer the hedonist's Shangri-La it once was, and the increasing influx of the Yates's Wine Lodge brigade may dampen its Eastern appeal; but Thailand's manic capital still has oodles of insanity to afford some 12 million plus visitors on an annual basis.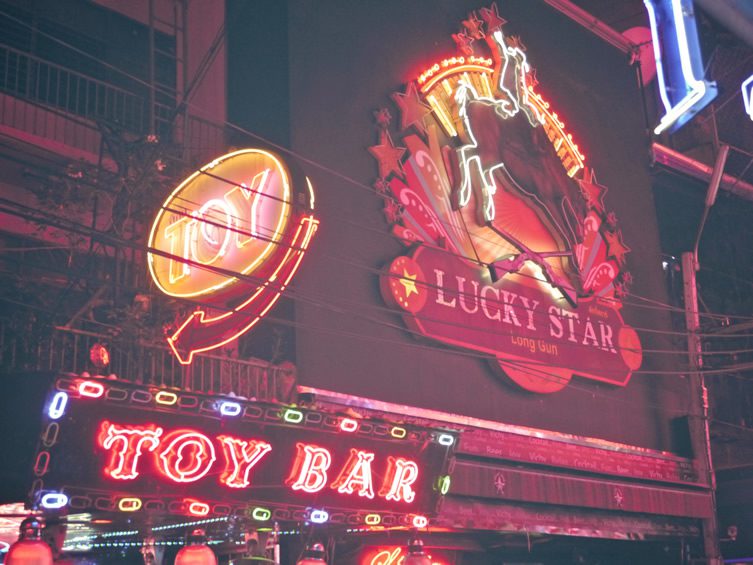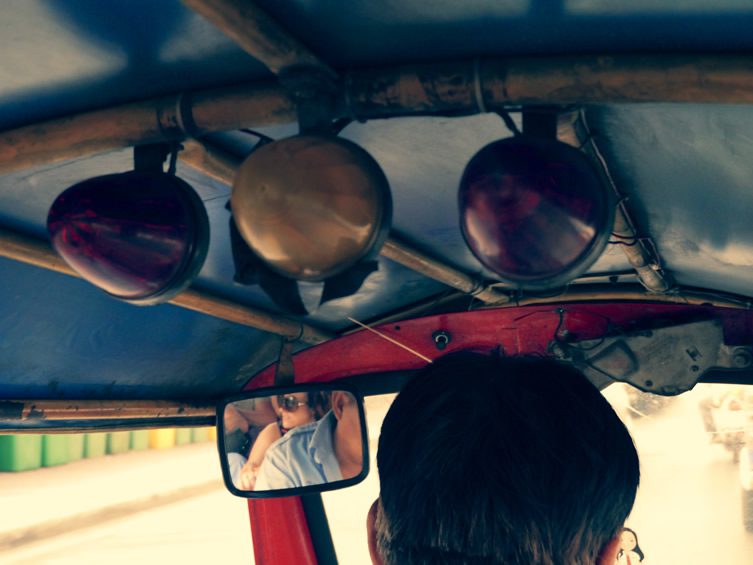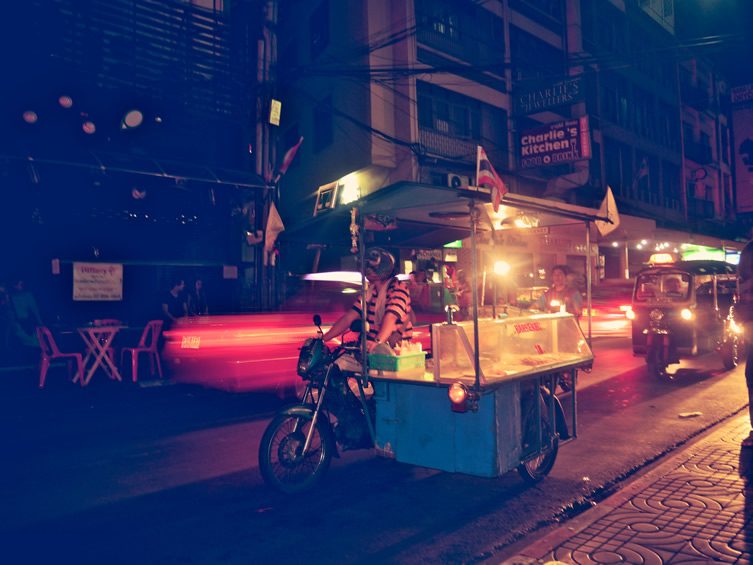 Fellow virgins: if you want my advice, drop your bags, wave down a tuk-tuk and head straight for Khaosan Road. Upon flying into Bangkok, your first 24 hours should be entirely devoid of culture – soak up the fumes, spill the local beer, eat a charcoaled scorpion, wake up whiffing a vague bouquet of both regret and a hankering to start all over again. Khaosan Road is exactly the right place to start said de-culturalising; an international ghetto for the inexperienced backpacker, keen to spend as little time as possible in their cockroach-infested hostels, pick up a drink and some food from the street vendors and pace up and down, taking it all in. It's brash, noisy, annoying international brats are wailing along to Top 40 chart rubbish, and all of Thailand are here flogging you everything you don't want (street hawkers are going to turn into a particularly nasty bout of tinnitus over the course of your stay, get used to it), but there's something strangely charming about it all.
Brain buzzing, no time to stand still, let us move on – you can get that last bit of scorpion tail out of your teeth in the tuk-tuk on the way. Next stop: you need to tick those lady boys off the list sonny. Leave all preconceptions tucked away in your fancy suitcase, suspend shock and your faux middle class outrage, peel your eyelids back and selotape them to your sweaty forehead; you'll need to take in as much of this visual madness as your sensory board can take. And when your internal Hal 9000 can no longer compute, you need to ignore its instructions and take in some more. Visit Soi Cowboy, Nana Plaza (a three-storey sex complex rumoured to be the largest in the world) and Patpong – seedy, seedier and seediest respectively – and grab yourself a drink. Forget what you read in The Guardian before you came away, worry about the moral dilemma when you get home, drink your drink and fry your brain. There's a surprising, if not disconcerting, air of Disneyland to these places, and – unless you're one of the pitiful, overweight international businessmen who are here on 'business' – you're actually less likely to get ripped off here than anywhere else in the city.
Bars 'close' around 2am, however most simply pull down the shutters – a diverse abundance of Bangkok is still out on the streets though and, as always, there's plenty of hawkers to keep you lubricated till bedtime. And where does a We Hearter lay their head of an early morning in the Eastern City of Angels? Not in a ropey Khaosan Road hostel, that's for sure. For all its street-side chaos and wide-eyed pandemonium, Bangkok is a city of colossal juxtapositions; for every go-go bar spitting out unhygienic ping pong balls, there's an imposing palace or Buddhist shrine. For every cockroach pit there's a resplendent pad of luxury, and when you've belly-flopped right into the babel of Bangkok, a bed of 5-star roses is just what one needs to cocoon themselves in.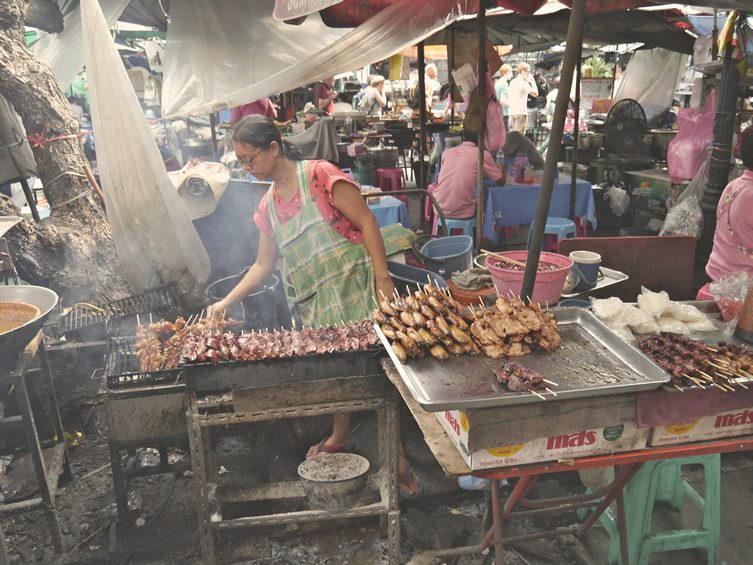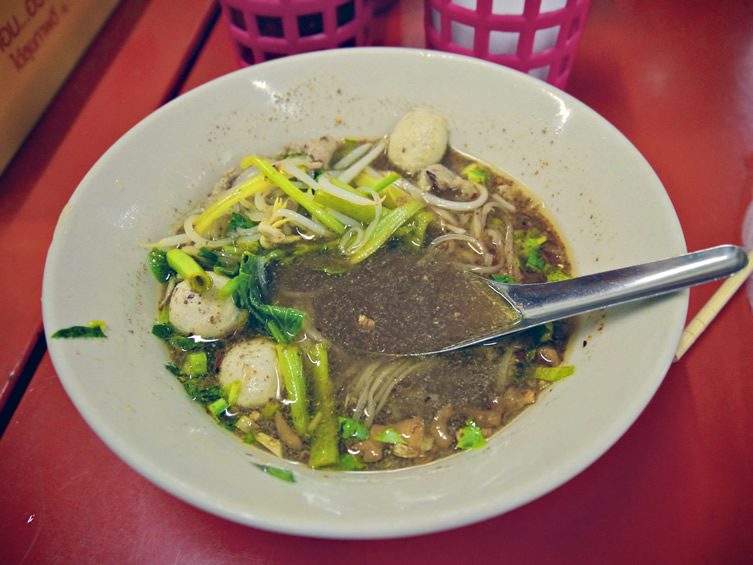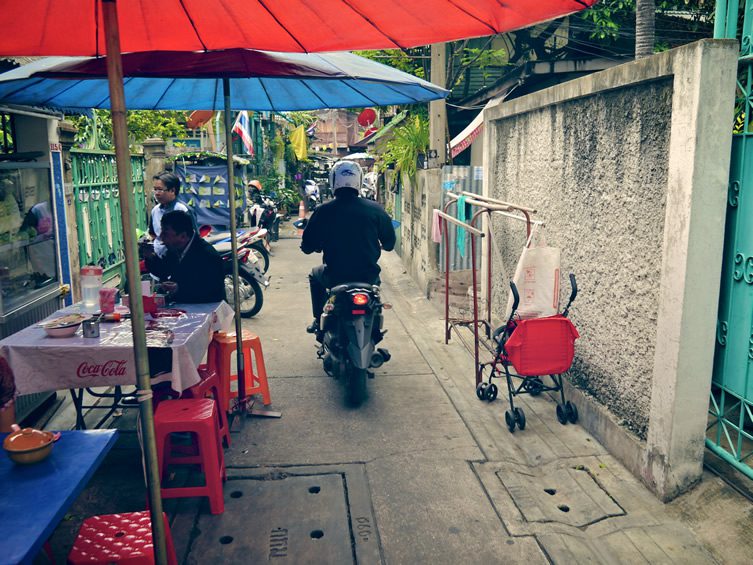 Around the corner from the Four Seasons and across the road from The Royal Bangkok Sports Club, Hansar Bangkok is the sort retreat you'll be crying out for after 24 hours in the city. Sofitel So Bangkok has the usual luxury/business hotel checklist consummately ticked off, but with fashion-icon-flair courtesy of Christian Lacroix, whilst – if your budget demands – Lub d Hostel do the cheap and cheerful thing with design-led swagger.
The realisation of Bangkok's stark contrasts will hit you as soon as you stumble into the lobby of one of its opulent hotels, the bridge between insanity and calm can often be as literal as stepping off the street and through a grand set of doors. If curious juxtapositions are your thing, no visit is complete without dropping in on Vertigo and/or its Moon Bar – located on the 61st floor of the Banyan Tree hotel, this is a vista like no other. In bustling international cities rooftop terraces are non too uncommon, but there's a serenity and sensation about this space that is quite unique – most rooftops see a continuation of sorts in the building it perches atop, a lift shaft at least, but here you're truly on top of the world, it's a little eerie at first, but breathtaking in that overused-adjective's truest sense.
Up here, the city is almost silent – the ringing in your ears from hours spent on its streets subsides, you slip under the spell of Vertigo's stillness, you pay the best part of a hundred quid for a wagyu steak. Those who prefer their food with a street essence, but who want to stay on the serene side of the tracks for a little while, should head for the brilliant Bo.lan – or take things molecular at the Kempinski Hotel's Sra Bua by Kiin Kiin. If you want to bring a bit of the hedonist's spirit to your rooftop terrace, try Zense: The Rebirth for a blast of decadent futurism.
Back at street level, and with sight-seeing in mind, Clark Griswold wouldn't know what to do with himself; Wat Arun, the Grand Palace, Chinatown, the Reclining Buddha… get yourself a day pass for the boats that navigate the Chao Phraya river and fill your boots – these are sights of world-wonder proportions. Throwing a further juxtaposition into the works, clash very old with very new and head to the Siam Centre; swanky brands are eschewed in favour of lashings of youth culture, it's a little like the mutant spawn of Selfridge's, Topshop Oxford Street and Westfield, but much more inviting than that sounds. Nearby is the Bangkok Art and Culture Centre, the boutiques and cafés of its artHUB@bacc particularly worthy of your time. There's cutting-edge interiors to be had here to, a little further away is We*Do Gallery – proving that Bangkok's surprising contrasts are thankfully never-ending.
Contrasts and surprises are this city's hallmark, its sense of unpredictability at its core. Cabling dangling precariously through its streets, roads brimming with traffic and chaos right through the night, sin and misadventure at every turn – but warmth, personality and excitement its overriding emotion. No longer a Bangkok virgin, I can join the chorus of approval – singing its warped praises and encouraging others to get lost in its charming delirium.
***