Our second day in Bangkok was fascinating and exhausting. Clocking mega-mileage at the humongous Chatuchak market and spending Baht in the thousands, we were literally spent (ahem). With dinner reservations at the renowned Bo.lan that evening, the spring in our weary steps soon returned. Having learnt that the duo behind the Bo.lan – Duangporn "Bo" Songvisava and Dylan Jones – trained under David Thompson of Nahm fame, expectations were certainly high.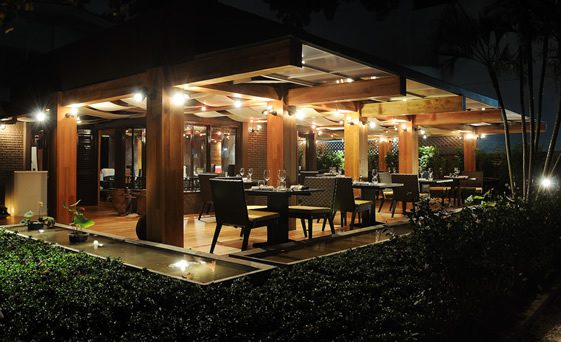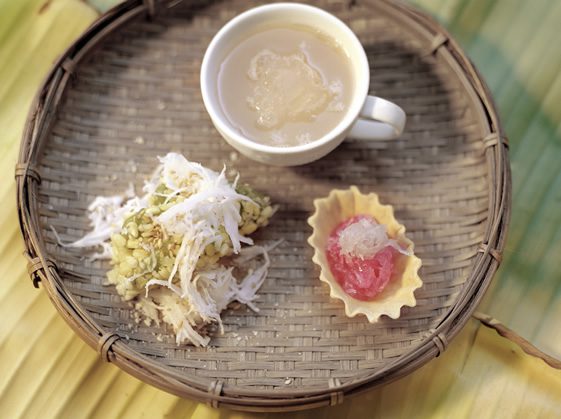 Arriving at the hidden back-alley gem on a hot evening was an exceedingly welcome departure from the mayhem of the city. Welcomed into the dimly lit restaurant we were soon sat with iced drinks and a cold towel. Around the cavernous surroundings of archetypal dark wood, brass and wicker, paintings of bustling market stalls invigorated the intimate space. Authentic and classy, Bo.lan's choice of tableware and decor gave the restaurant that fine balance it so aspires to.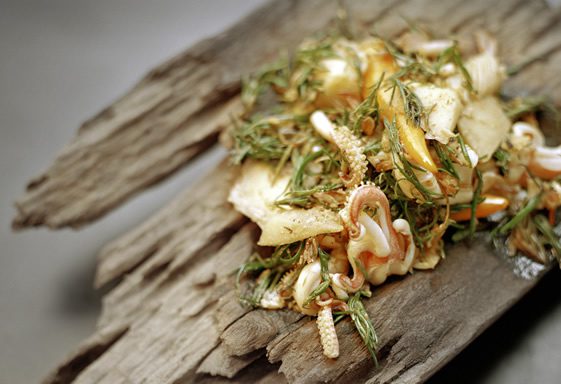 On Dylan's recommendation we went for the Balance tasting menu, starting off with Ya dong grachai dum which simply translates to Thai whiskey, Pandanus juice with sour fruits – awesome. The amuse bouche was more of a starter than a palate exciter, but ever so beautiful and tasty – starting left to right sampling sour, sweet, hot then spicy. With the food marathon on its merry way we sampled salad of Ayuthaya river prawns and soft boiled duck egg, grilled mackerel with crispy fish cakes, green curry with short ribs and sweet pork floss – not to mention the choice of soup, and herb-fed chicken with fresh almonds!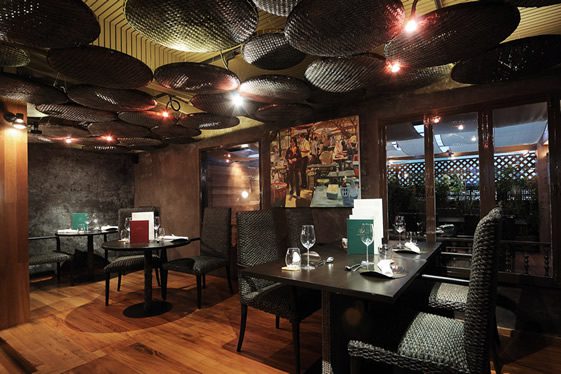 The food was most certainly flavoursome and fiery, even when ridiculously full we couldn't say no to more. Colourful and fragrant the dishes sent our senses buzzing – presentation of the dishes being a definite highlight for us. Oh, and if you want a bit more soul, sit outside in the garden with a cocktail – their resident black labrador will do the rounds (very slowly), amusing the immensely stuffed patrons.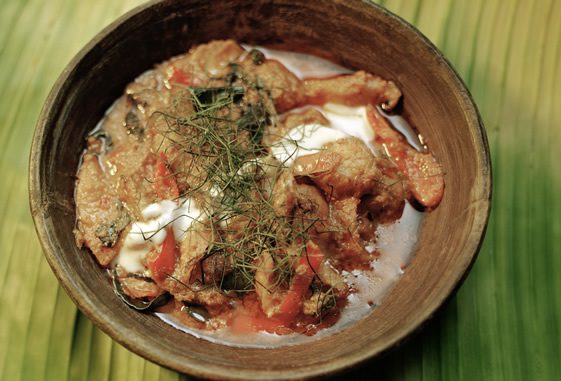 Dedicated, conscientious and incredibly passionate, it's easy to appreciate Bo.lan's ethics. Their fine interpretation of Thai food doesn't tamper with traditional dishes, it highlights them. Bo and Dylan's slow-cooking philosophy is wonderfully conscious of the ingredients they use – with every dish tenderly prepared from scratch, using locally sourced ingredients, the seasonal and monthly changing menu stays true to its Thai heritage.
Bo.lan's belief that the best Thai restaurants should be found in Thailand is the root of their painstaking venture – tasty ethics is certainly where we should be heading with food.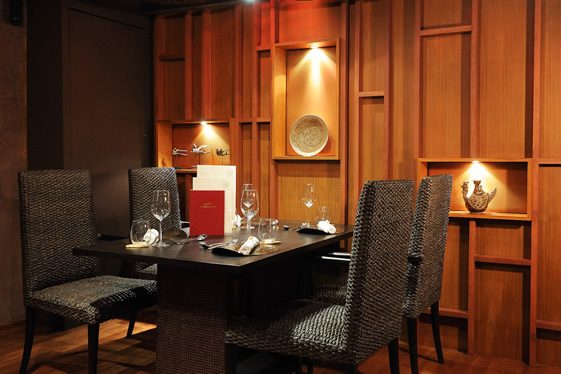 Further reading on slow-food.