Let me tell you, having lived in the region for 3 years, I can sum up the design of luxury Asian hotels in two words. Cream. Marble. It doesn't matter which hotel superpower owns it, Hilton, Hyatt, the result is the same. Comfortable? Yes. Well staffed? Certainly. Relaxing? Definitely. Exciting? Erm, no.
Part of the problem with the design of these type of hotels is that they pitch to their market. Travelling suits make up a large proportion of the clientele at large luxury city hotels, and whether they are staying for two nights or two weeks, the designers of the buildings tend not to tax their journey-jazzed guests with too many style curveballs. They have meetings to attend, products to sell, presentations to give. Down-time is of the essence.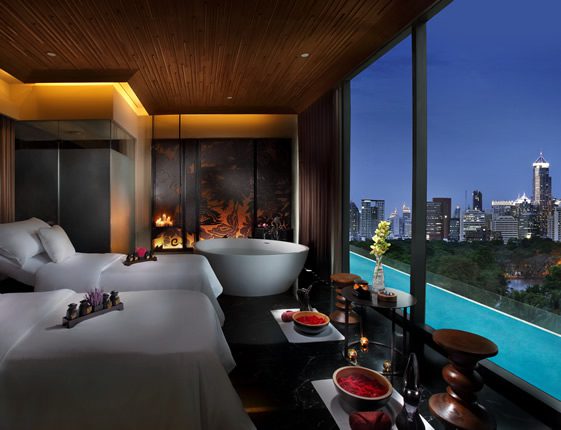 All that looks to have been thrown out of the window by the designers (who worked under the artistic direction of a certain Christian Lacroix) of Sofitel So Bangkok, a startling new venue in a buzzing city that is on the up in so many ways. John from accounts. Andy from marketing. Clive from sales. Let us introduce you to a daring new business model.
As a travel destination, Bangkok has got loads going for it. It's an exciting city (and not just for those seeking to find a short-term girlfriend), the location is convenient for visiting other parts of South East Asia, and if you're coming from the UK, there are direct flights logging in at a thrombosis-dodging 13 hours. On the flip-side, it doesn't have a reputation for being the most attractive city in the region. Thanks to Sofitel, the city just got a whole lot prettier.
Cream marble out, dark wood in. Curves for corners. Chocolates, greys and blues. Something interesting to catch every glance. Here is a place where the stay is an itinerary event in itself. It may get the jet-lagged Jeffs in a time-zone tizzy, but thank god for something different in a sea of sameness.
For more evidence of Bangkok's recent forward-thinking design philosophy, check out our introduction to Bangkok University's new BU Lounge.