A little over an hour away from Amsterdam lies the city of Apeldoorn, a municipality in the centre of the Netherlands. A favourite of the royal family——who have a country seat close by at Het Loo Palace——it is also home to Sizzles at the Park, a former 'Secret Society' club cum multi-faceted dining experience.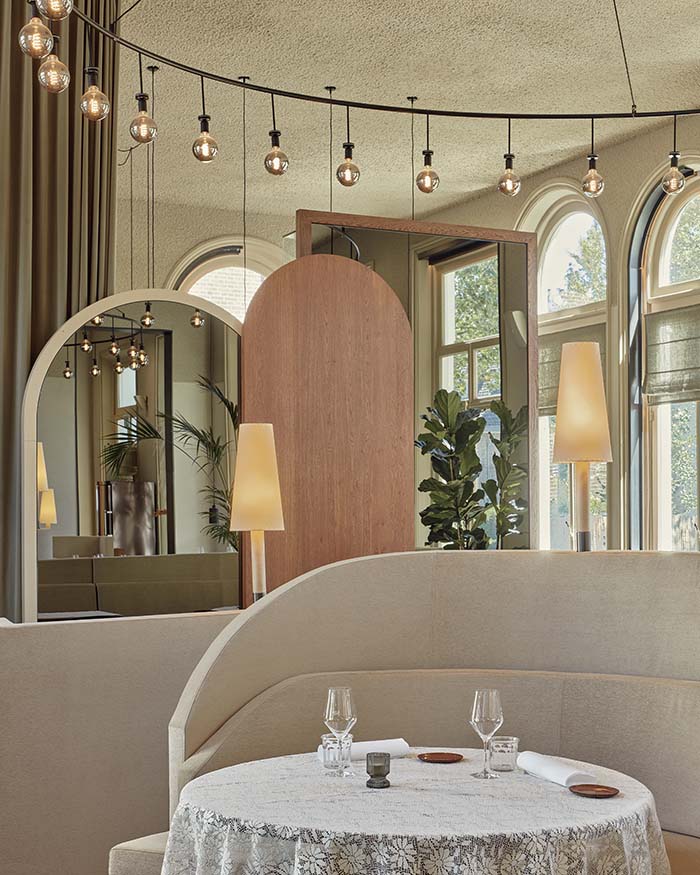 Designed by interdisciplinary studio, Zware Jongens, the venue revolves around a 'Sip, Dine, Chill' concept, the owners requesting a space that merges different dining 'atmospheres' into a single spot.
'Sip' separates the alluring bar area, where the day can begin with a coffee, or the evening can end with a nightcap. 'Dine' encapsulates the kitchen's culinary excellence. While 'Chill' combines intimacy with a touch of mysteriousness, the space an enticing one to share food you can watch being prepared in the open kitchen Social cosiness is fused with a mix of conviviality and relaxation, known in Dutch as gezelligheid.
Located in a historical building within lush gardens, Zware Jongens retained many original features and used existing shapes, forms, and elements to create a holistic design that incorporates past, present, and future in one place. Colour, materials and texture were chosen based on the property's location nestled in a park; Sizzles at the Park a destination to spend the day in the company of trees and good friends.
Entering the restaurant through the Sip area, the journey throughout the space follows the natural flow of any dining experience, guests then moving onto Dine (for some this being the experience finale), before venturing on to Chill, which is ensconced behind an almost unnoticeable door next to the kitchen. A dark space framed by a cobbled floor, it's a place where the illusion of indoor and outdoor reaches its climax with a show-stopping nine-metre-long custom tapestry that runs from floor to and up the wall. Inspired by the mountains of Japan, the pièce de résistance was designed by Zware Jongens and handmade by John McKerchar and his team in Scotland.
Whatever your desire, quick drink or full blown dining experience, Sizzles at the Park is a remarkable spot with an inspired aesthetic.