Located in Weert, a small city in southeastern Netherlands, Chinese Box Club is no ordinary takeaway. in fact, thinking outside of the 'box' was integral to owners Lide and Aihua Chung, and designers Zware Jongens, who together sought to shake up the Chinese takeaway aesthetics; ensuring this eatery remains relevant in an already crowded market.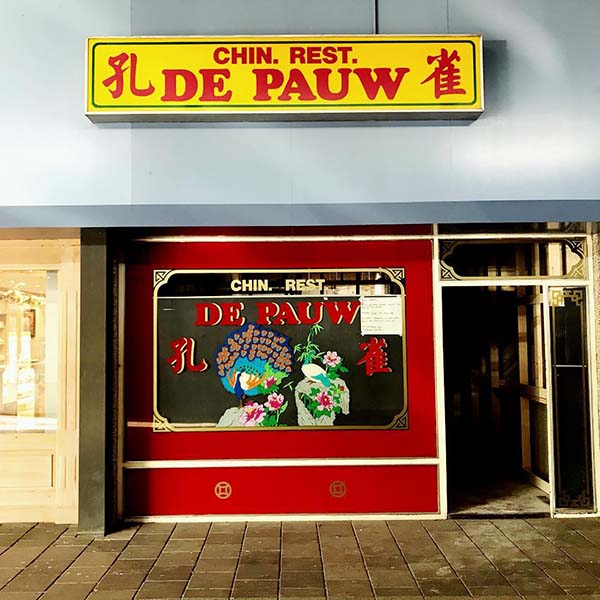 At just 30 metres squared, Zware Jongens had to create a unique atmosphere in a limited space. Inspired by traditional Chinese restaurants, the 's-Hertogenbosch-based designers took authentic elements and implemented them in an entirely new way. The logo—a mixture of Chinese lettering and modern typography—is as eye-catching as the name, Chinese Box Club referring to the box in which guests receive their order; helping this restaurant to remain in the thoughts of its customers. A rice pattern in motion, another visual aspect, refers to explosive elements from boxing culture, aligning with the brand idea of 'food with a punch'.
A personalised red and blue carpet complements stained birch wood panelling with vintage spherical wall lighting, the carpet extended by the use of mirrored skirting boards. Food can be ordered in person, digitally at home, or in the shop, ample seating provided for hungry diners waiting to take away and devour their food. Order numbers flash up on the wall near the kitchen hatch. Giving a sense of 'street food' to the experience, customers receive their food directly from the kitchen, adding a touch of speed and personalisation to the process.
With bright punches of colour, light and wording, this branding and design project—by Zware Jongens in collaboration with Chinese Box Club—gives takeaway food in the Deliveroo era a unique sense of experience and authenticity; a triumph in reimagining and bringing new life to an age-old concept.