Founded by social entrepreneur Roth (Eduardo Neira)—of the impressive AZULIK Tulum and neighbouring genre-defying art space IK LAB Tulum—AZULIK Uh May is a confounding proposition; a trans-disciplinary site for creative endeavour set deep within the Yucatan Peninsula's lush jungle; a 30 minute drive from its sibling resort.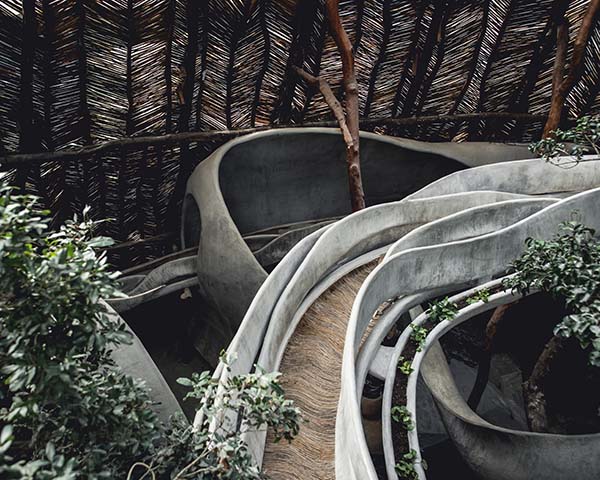 Conceived as an experiential site to support 'research, transformation, and creation' in the Mexican jungle, AZULIK Uh May seeks to explore the human essence of arts, and features a multitude of spaces including a lab dedicated to fashion and design; an art school; recording studio; and avant-garde art space. Demonstrating Roth's commitment to preserving and integrating the environment, thoughtful materials and techniques were used throughout the structure.
"AZULIK Uh May captures the soul of the location and has been carefully designed to preserve and embrace the local ecosystems," he explains. "The construction process is mindful of the carbon footprint and not a single tree has been cut to make space for the buildings, instead the structures embrace the existing vegetation."
With plans for an expansion to include an art museum composed of pavilions housing site-specific installations and a recycling and sustainability research centre planned for 2019, the primary focus of AZULIK Uh May is one of betterment; of progressing humankind through creativity and connection to nature. "AZULIK Uh May will encourage and favour the encounter of the finest spirits of our times," Roth continues, "committed to exploring new forms of reconnecting as individuals and as a community alike, united by the shared desire to learn from the native tribes to live in harmony with the environment and to help them navigate the challenges of contemporary life under the aegis of art in a myriad of manifestations."
A massively ambitious project with profound change at its heart, Eduardo Neira's latest addition to Tulum's staggering AZULIK project is another convention-defying wonder.