Sonny makes croques, exceedingly good croques. As the son of Monsieur Croque (and Madame, presumably) he had little choice, the burning desire to make a top notch sandwich — or as Sonny puts it: 'terribly good things, between things' — runs deep through his veins. And so our friend Sonny (otherwise known as 'concept developers' Zware Jongens) opened up an eatery in the Netherlands city of Amersfoort. Say hello to Son of a Croque.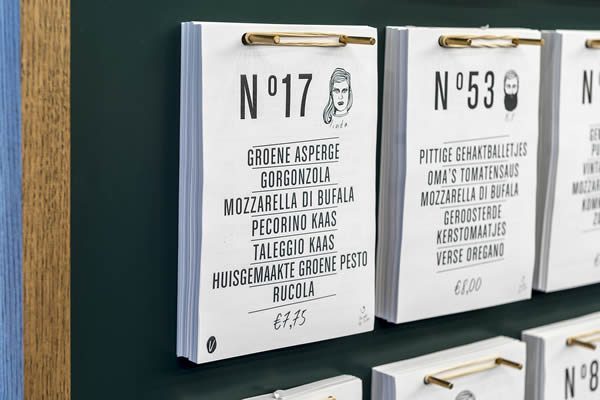 Be it a classic, sweet, or salty croque, there's a helping of the Parisian café classic for everybody here — the bread is supplied by Vroeg bakery, the fillings sourced from local delis and producers, whilst pickles and sauces line the long counter; the jars and 'crockery' (there's a play on words in here somewhere) adorned with a doodle of our man's face.
Interiors at Mister Croque's gaff come courtesy of Mark Pimlott, and include a large central bar; stainless steel, oak, and marble; fat, brightly coloured steel columns; a cluster of mirrors; and a ladder/wall doubling as a display for the sandwiches and changing specials.
Remember, Sonny's croques are of the exceedingly good variety, built with passion and fervour — we're not dealing with simple grilled sandwiches, flattened in a proletarian toasting device, these are 'terribly good things, between things'.