Child Studio looked to Soho's rich heritage for design inspiration on the Marshall Street store of modern spectacle-maker, Cubitts. Founders Alexy Kos and Che Huang focussed their research on the neighbourhood's heyday in the postwar era. As they explain: "looking at the interiors of the neighbourhood's iconic venues, such as the Formica-clad 'Bar Italia' and the legendary jazz venue '100 Club' with its all-red interiors."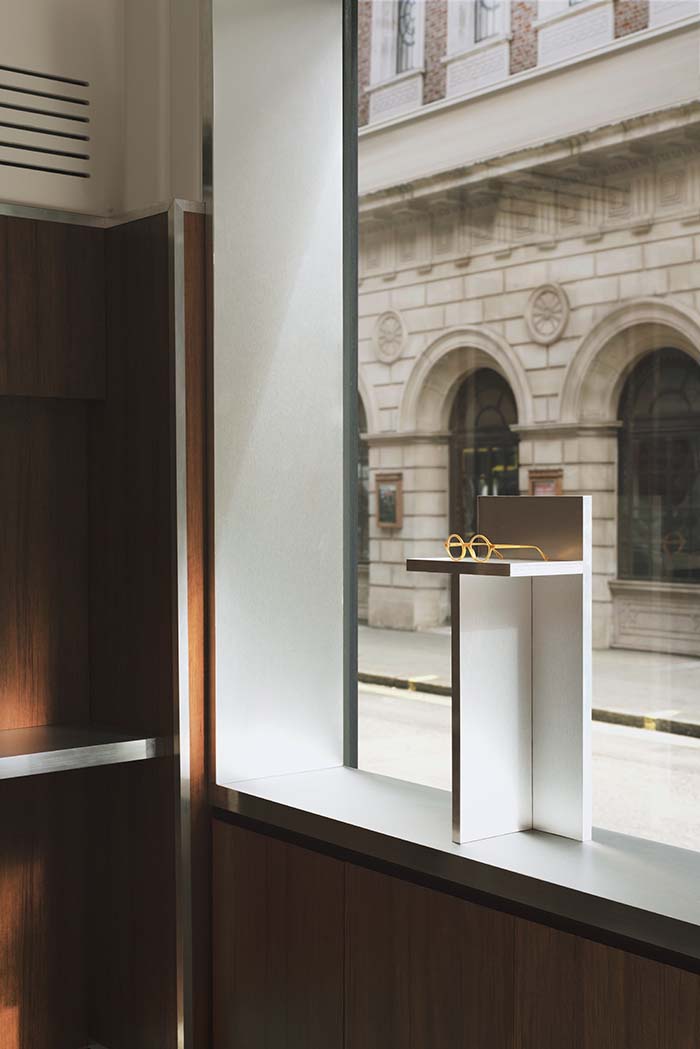 With a strong connection to the capital, the British spectacle brand (who have stores throughout the city including Coal Drops Yard, Covent Garden and Spitalfields, as well as Brighton and Cambridge) use the finest materials to design glasses that complement the canvases that grace them. Here in Soho, Child Studio have created the perfect interiors to showcase those considered wares.
An atmospheric blast from the past, walls are clad in a faux-wood Formica laminate with small nooks for display features. Including the illuminated acrylic shelving that houses a range of colourful acetate chips for bespoke frames. A 1961-designed antique 'Caori' cocktail table by Vico Magistretti is the store's elegant focal point, the brushed aluminium tabletop a sight to behold. Child Studio sourced the evocative piece and devising a raised podium to adapt it to its new retail environment. The desk lamp by Czech designer Josef Hurka for Napako is another stellar mid-century find, also dating back to the 1960s.
The basement houses a collection of limited-edition sunglasses, and is reached via a narrow staircase. Traverse the steps and clients will find a contrasting space where surfaces are finished in deep red and accessorised with the 'Conelight' floor lamp by Ronald Homes and chrome and leather chairs designed by Giovanna Modonutti. A neon sign echoing Soho's more infamous days highlights the direction to an eye-examination room. Hidden behind a velvet curtain, it's where Cubitts experts help folk see clearer lives through the glasses they wear.
It may not have the eye-catching wall-to-wall pink Formica cladding used by the designers on Chelsea's Humble Pizza design, or have the whimsical otherworldliness of their virtual paradisiacal getaway, Casa Plenaire, but in its classical refinement and pitch perfect period aesthetic, Cubitts Soho once again demonstrates the ease with which the designers can imbibe an expressive atmosphere into their work. A real beauty.