London designers Child Studio have completed work on Humble Pizza, a new plant-based restaurant on the King's Road—the Instagram-ready 1,200 square foot space a modern take on the 'Formica caffs' that were somewhat of an icon throughout the West End of London in the 1950s.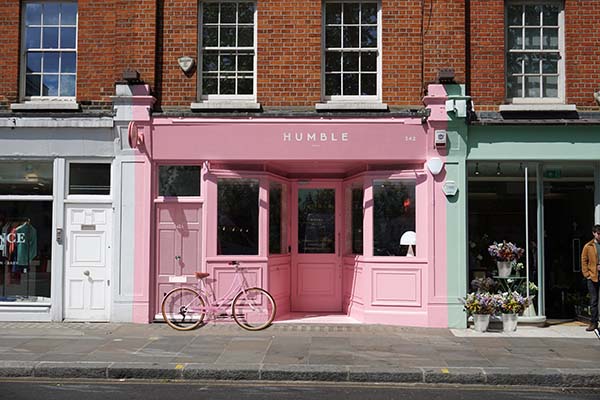 Known for its links with British fashion, music and popular culture, the Chelsea street—that was also once home to a friendly lion called Christian—has long attracted a diverse crowd, from mods and hippies to punks and the New Romantics; something Child Studio drew references from when creating the plant-based pizzeria's unforgettable interiors.
The result of this classic café update is a radiant spot where wall-to-wall pink Formica (the designers working with the factory to choose the optimum 'millennial pink' shade) cladding continues across long counter fronts and tables tops; cherry wood framing highlighting each lush laminate panel. Mosaic tiled flooring, neon signs and classic mid-century lighting complete the evocative design that hides behind a characterful shopfront; the façade having been stripped back to reveal original features including ornate cast iron grilles. It all, naturally, daubed in brilliant candy pink.
The 21-cover restaurant serves up a contemporary plant-based menu of goodness, including pizza with bases made from 'humble' cauliflower and topped with truffle and mushroom, creamy saffron and asparagus; vegan mozzarella and mushrooms with shaved potato; cashew crème fraîche and roasted parsley; and accompanied by a variety of salads and seasonal soups.
"W​e have long been attracted to the cinematic quality of London's 'Formica cafés," explain Chieh Huang and Alexey Kostikov of Child Studio, "the duality of Modernist design language and the playful, almost cartoonish spirit." In Humble Pizza, the duo have taken that design language, filtered it through a lens of contemporary culture, Wes Andersonesque whimsy, and social media-friendly aesthetics, the outcome an indelible bolt of exuberant style that is sure to win devout fans across the capital.