From the city's lifeline of transported goods—namely the eight million tonnes of coal delivered to the capital each year—to the nocturnal stomping ground of ecstasy-fuelled souls some 140 years later, today the industrial Victorian arches at London's King's Cross becomes a convergence of commerce and culture, as the new Heatherwick Studio-designed Coal Drops Yard opens as home to over 50 stores, restaurants, cafés, and creative interventions.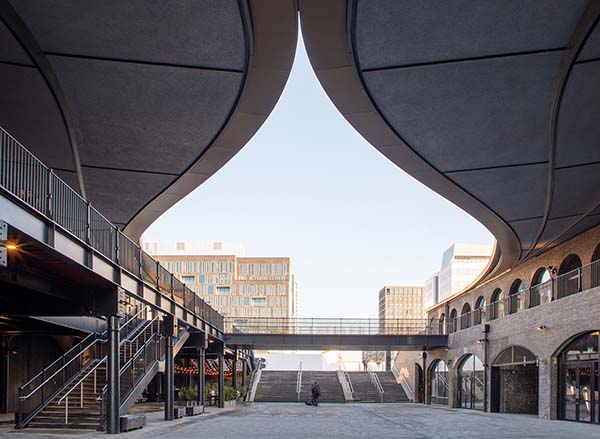 "Challenging the trend of faceless, endless, mass supply and demand by redefining what 'consumption' means", Coal Drops Yard is built on innovation and creativity. You'll find familiar names here (and some not so familiar), but their presence will be different. Engaging shoppers in the experience of consumption, each and every outlet unites to offer the extraordinary; a place that goes beyond simply being a place to buy.
Located directly adjacent to Granary Square and Regent's Canal, Heatherwick Studio has interlaced a contemporary design with the historical structures and rich ironwork of the original Victorian coal drops to provide the backdrop for something that's very London, and very much now. Alongside Coal Drops Yard, Lower Stable Street—curated by indie magazine, KIOSK N1C—will host pop-ups, live events, and experiential stores from a creative collective of established and up-and-coming brands, making this a destination for culture junkies as much as ardent consumernauts.
"It has been a huge privilege working on Coal Drops Yard," explains Thomas Heatherwick, "not only because it's the studio's first major building completed in London, but also because it is in King's Cross, where my studio and I have been based for the last seventeen years. These amazing Victorian structures were never originally built to be inhabited by hundreds of people, but instead formed part of the sealed-off infrastructure of London. After serving so many varied uses throughout the years, we've been excited by the opportunity to use our design thinking to finally open up the site, create new spaces and allow everyone to experience these rich and characterful buildings."