Jean Jullien, the London-based French illustrator and Central Saint Martins alumnus who broke the internet with his Paris attacks response, has collaborated with CASE STUDYO to create a hand-painted wooden lamp, featuring two different faces and packaged in a custom screen-printed box, reflecting his singular style.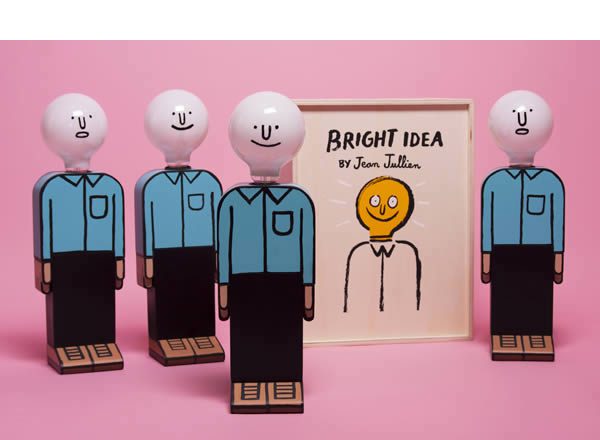 Bright Idea — a limited edition of 25 signed and numbered pieces — is much more than a functional lighting object, Case Studyo telling us that: 'Jullien approached our collaboration as he would tackle a drawing, the three dimensional illustration perfectly capturing the feeling every creative is constantly chasing; the joy of a new insight, the eureka moment, a Bright Idea.'
The enlightening Jullien collaboration is the latest in a long line of stupendous editions that Case Studyo have put out from We Heart-adored artists like the brilliant Andy Rementer; Parra; HuskMitNavn; Cleon Peterson; Todd James; and Jeremyville. Fine art works, furniture, or other functional objects, the artist series born out of Belgian creative studio Toykyo in 2012 go from strength to strength — never reproducing existing artworks, always aspiring to work with the top talent in creativity on original, unexpected collaborations.