Occupying four distinct fifth-floor storefronts over a total of 16,000 square feet at mega-money project The Shops at Hudson Yards, Forty Five Ten—the forward-thinking Dallas-founded brand that merges fashion and art—brings the new, the unconventional and the eclectic to New York City.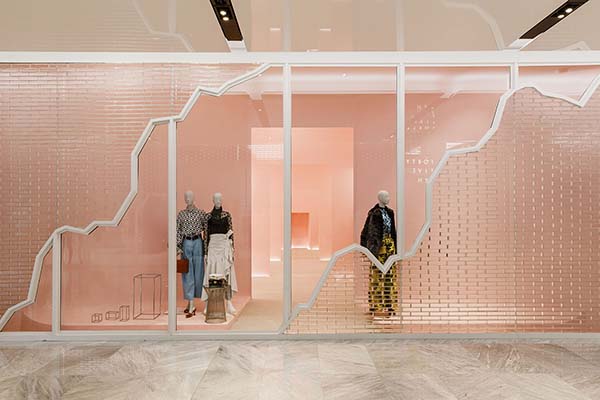 The seventh opening for the brand—who has stores in Miami, Aspen and The Joule hotel, Dallas, among others—features areas dedicated to different categories: 4510/SIX, ​a​ ​platform for emerging fashion and design, women's design brands, men's, and vintage alongside pieces for the home and a curated selection of coffee table art, design books and independent magazines.
Snarkitecture, the progressively experimental New York-based collaborative practice founded by Daniel Arsham and Alex Mustonen, collaborated on the design of the storefronts which sees a transfixing glass brick façade that contradicts the standard visual language of commercial spaces. And the artful edginess continues within, a Jose Dávila ​sculpture located in the women's section; Al Freeman​ soft sculptures in men's; a ​Lars Fisk ​sphere, six feet in diameter, in the vintage section; and Katie Stout ​sculptures in 4510/SIX (the artist also developing a limited-edition fashion capsule collection with design objects for the platform). Furniture and retail display fixtures throughout come courtesy of colour-fixated contemporary artist ​Greg Bogin​. It can all feel rather more like a trip to the Whitney, who the brand have an ongoing collaboration with, than a retail experience.
Breathtakingly rich in culture and contemporary art, the Forty Five Ten fits Manhattan like a glove and is a visual feast for fans of fashion and art, although the two need not be exclusive. Brilliant and bold, the Dallas-born brand continue to redefine what retail can and should be. Forty Five Ten New York is a blueprint others should follow.