The Normann Copenhagen flagship store at Østerbrogade 70 has embraced the brand's lifestyle concept and blended product categories since its 2005 opening, so many had waited with great anticipation to see what revelations lay behind the pink foil that had covered the building for the month leading up to its recent rebirth.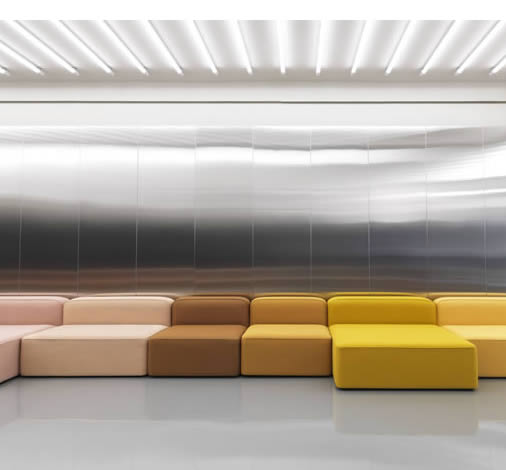 A gargantuan renovation job has been performed on the former cinema (though careful to retain original classical details), the new combined store and showroom featuring brushed steel; lively terrazzo; and colour combinations that need to be seen to be believed. Designed to make visitors feel as though 'they're moving around an art installation' designer Hans Hornemann explains: 'we've played with the contrast between warm and cold in a contemporary interior environment that pays homage to premises that are very worthy of preservation.'
Divided into four entirely different quarters, the showroom — filled entirely with the company's own designs (fashion and accessories aside) — is a place to move around freely and at your own pace, in fact, with over 40,000 possible combinations for a Form chair (pull up a pew in just one of those while you customise and order you very own) you might want to earmark a fair few hours to hang-out here.
Customer service is priority, whether you're knocking about the 20 metre-long Rope sofa adorned hall, the grand ballroom with terrazzo-covered steps, the stage area (a powder-blue universe stocked with stationery, and odds and ends) or the gallery; a thunderous pop of pure pink, Danish artist Nina Holmgren having created a series of curated playlists to compliment the site-specific composition, Fresh fools in a pool of pink salty tears. An incredible voyage of design discovery.