The modern world is in a bloody mess, and Cleon Peterson isn't afraid to rip off the bandages and expose the seeping wounds beneath.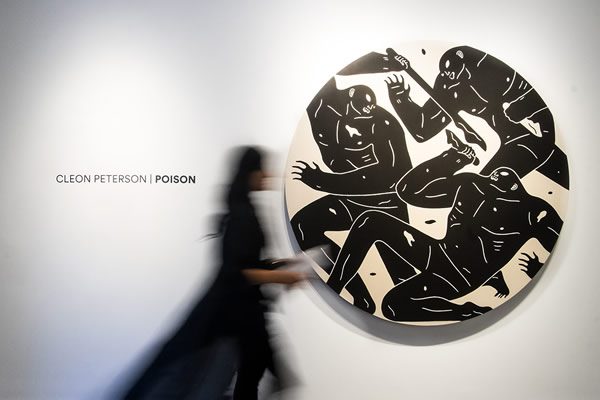 The Los Angeles-based artist senses a current of poisonous revenge running through cultures around the world, and it's on this theme that his latest series turns its unflinching stare.
Peterson has prepared 20 large-scale canvas works and two sculptures as a reaction to what he sees as a vengeful world. "It's often a motivation for war and justification for punishment; it's a social impulse that is destructive and easy to become complicit in," he said. The artist doesn't pull any punches, and neither do the figures in his works. They're tooled up and going at each other with a feral abandon, but his seemingly savage men are given tailored underwear rather than caveman loincloths in a jarring allusion to modern society.
Peterson employs his signature palette of black and white on his canvas works, using a rudimentary figurative style reminiscent of classical Greek black figure pottery to powerful effect. POISON is being exhibited at Library Street Collective, Detroit, until 15 October.