Once one of Palma's most fashionable neighbourhoods, with many residents choosing to build their second homes there throughout the 19th century, El Terreno was frequented by renowned artists, writers, and locals who flocked to the barrio to drink and dine in its discerning restaurants; enjoying everything it had to offer before it began to suffer from deterioration and decay in the last few decades.
Today, in a bid to return El Terreno to its former glamorous self, The Fluxà family — owners of world-famous Mallorcan footwear brand, Camper — have acquired a series of buildings, seven in total, and alongside architects GRAS and MVRDV have begun a revitalisation project that will see new bars, restaurants and shops popping up in and around the neighbourhood.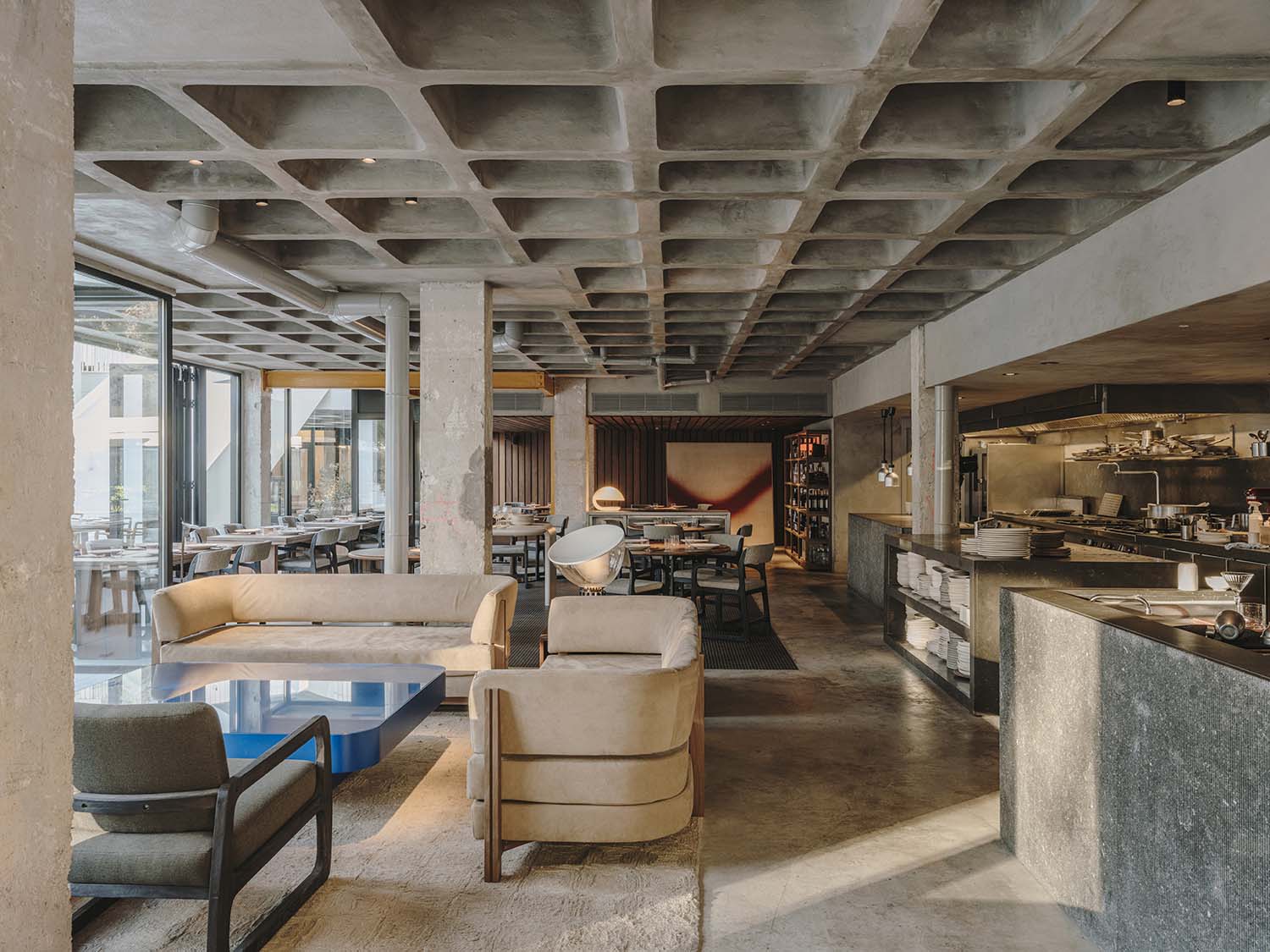 In the heart of the barrio, Plaza Gomila, Sandra Tarruella Interioristas have put their stamp on Brutus, an Italian restaurant whose name refers to the Brutalist architectural movement of the 1950s, which is evident here with design nodding to the exposed concrete structures, rough textures and grey tones the style has become loved for.
Located in a white building with a large central terrace, the all-day restaurant features an open kitchen where three large counter bars are used for preparation and cooking, enabling diners to see how their food is prepared in "a dynamic and honest space." The interior is connected to the terrace by the use of folding glass walls, making this feel like an extension of the inside whilst allowing guests to enjoy Mallorca's wonderful climate.
Wooden furniture is largely presented in Ipé and Teak woods, tables and banquettes are custom made, and primary colours — largely present in Brutalism — can be found on the structural beams, pizza oven, decorative lamps, and in the bathrooms.
From antipasti to pizzas, pasta and fish, Brutus serves casual but considered fare in slick surrounds. A cornerstone of a neighbourhood on its way back to the good times, this dashing restaurant is set to become a favourite among Palma de Mallorca's hip crowd.
@restaurante_brutus
@sandratarruellainterioristas