From the moment you set foot inside Concepció by Nobis, its beauty is inescapable. Set in a mid-16th century building, once home to a soap factory, the fusion of Scandi style and Spanish charm rolls onto you in abundance. From carefully restored arches and pillars to contemporary lighting and furniture——which includes pieces from Artek, HAY, and B&B Italia——everywhere you turn, you're hit with a face full of eye candy. It is overwhelming. In a very good way.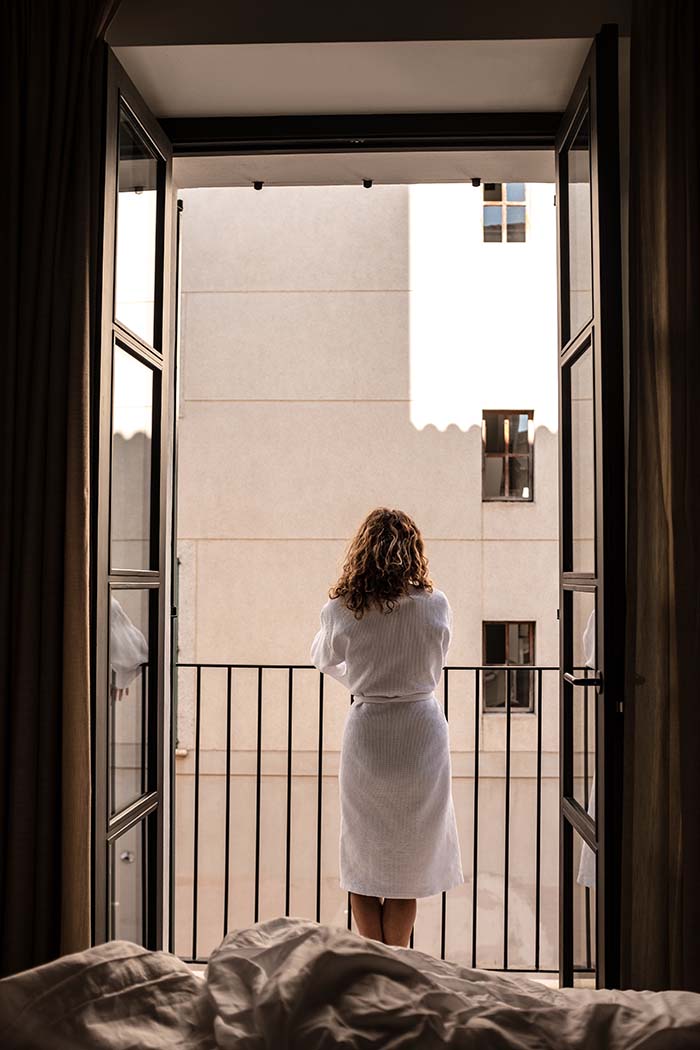 Choosing Palma for its first property outside Scandinavia, the Nobis hospitality group sought the expertise of long-time collaborator studio Wingårdhs. Local architects, Jordi Herrero Arquitectos and Eduardo Garcia Acuna Arquitecto, joining forces with the Swedes to design a hotel where elevated aesthetics make for an intimate spot on the outskirts of the city's Old Town. It's a place for guests to enjoy the calm of the property, or the buzz of its eclectic surrounding neighbourhoods. With just 31 guest rooms, Concepció by Nobis presents a soothing retreat from Mallorca's capital. The accommodations, ranging from Small Double to the stunning Terrazzo Room, feature furniture and textiles that reflect the spirit of both Mallorca and Nobis' Scandinavian heritage; alongside modern amenities, Carl Hansen armchairs, lighting from Örsjö, and tiles that will make you rethink your own Pinterest inspiration boards in a heartbeat.
Spotted the second we arrive are the hotel's trademark green and white watercolour-style tiles. They adorn all from the hotel lobby through several indoor and outdoor spaces to the bedrooms and, in particular, their epic bathrooms, where they run riot from the floors to the ceilings. Inspired by the Mallorcan landscape, these Insta-ready beauties were created by local ceramics brand, Huguet; the specialists painstakingly handmaking each piece in a workshop just east of Palma de Mallorca.
A member of Design Hotels, Concepció by Nobis is located close to the Santa Catalina neighbourhood, a former fishing district cum hip enclave, whilst still situated on the edges of the evocative old town. This means that those looking for third-wave coffee (check out La Molienda Bisbe nextdoor to the hotel), natural wines and craft IPAS are as in luck as those seeking the more traditional vermuterias, tapas bars and markets. Mercat de Santa Catalina and Mercat de l'Olivar are just a short stroll from the hotel, and a wonderful way to spend a morning among locals before heading back to the hotel early afternoon to enjoy a few hours relaxing, either around the petite outdoor pool or the ample living room area.
Public areas introduce a fluidity of spaces in which guests may easily drift from room to room, indoor and out, elevating the hospitality experience to a level where you truly feel at home. A home, however, with all the amenities and design credentials of a top, top hotel. Come evening, the hotel's beating heart lies in Xalest, the in-house restaurant led by chef, Xema Alvarez.
Serving a selection of tapas and pintxos alongside larger plates that embrace Mallorcan food culture and the Spanish way of dining, it is set within a convivial space characterised by a contemporary design and homely ambience. From fresh fish to fried croquettes and meat dishes, the food is bright and bold, fresh and seasonal, and is accompanied by fine local and international wines.
Capturing the vibrancy and eccentricity of the Mallorcan capital and filtering that through a lens of effortless Scandinavian luxury and service, Concepció by Nobis is an elevated experience for even the most discerning of modern traveller.
@concepciobynobis
@design_hotels