London-based German artist Simon Mullan has a knack for subversion. You can almost hear the skinheads weep as their iconic regalia has been callously skinned like a mink. Beginning life in the United States Air Force, the bomber jacket has been reappropriated time and time again: mods, neo-Nazis, punks, gay fetishists, haute couture …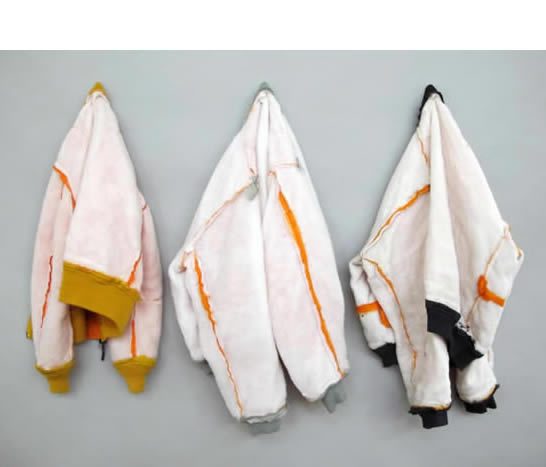 Here, Mullan reappropriates again, in an altogether more subversive manner — his Alpha Series stills the masculinity and power of the subcultures his source material is synonymous with; weaving quilts from his own extensive collection of bomber jackets. Mullan's Naked Bomber Jackets takes that reappropriation to another level, using the nullified symbol as a device in his own subculture: 'the jackets function as a badge similar to motorcycle gangs like the Hells Angels or Bandidos,' explains the artist, 'you automatically become a member of the international Gang or Charter of Simon Mullan supporters by wearing one.'
Those who join the Simon Mullan supporters club will be asked to continue wearing the jacket ('preferably at art events across the world') until they feel that they no longer connect with the artist's work; upon which they must be returned. 'I hope I will never get back one of these Naked Bomber Jackets,' Mullan confesses.
The jackets and quilts form part of Die Fläche (The Surface), an expansive exhibition currently showing at London gallery PM/AM that includes ceramic, textile, sculptural and video works throughout its 3000 sq ft. Another body of work, Popularis, sees Mullan at the subversion again — turning common bathroom ceramics into abstract wall art, poking at notions of class and prodding the bubbles of high and low culture.
Simon Mullan, Die Fläche, continues at PM/AM, Marylebone, until 30 May.