With restaurants that include Barcelona's The Green Spot and Madrid's Ana La Santa, En Compañía de Lobos are a hospitality brand that pride themselves on creating experiences based around honest concepts and a mindful approach to recipes; each hosted in design-led spaces.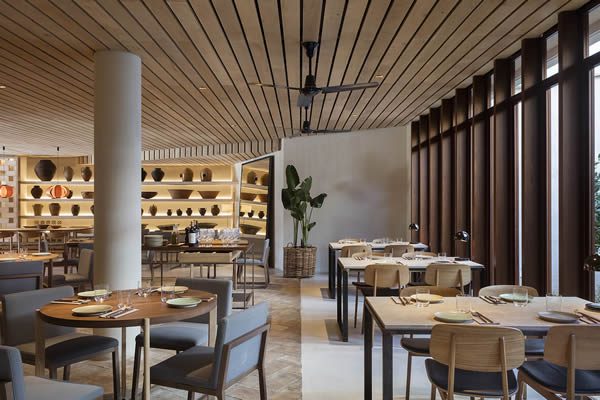 Their first restaurant on the island of Mallorca—located in its handsome capital Palma—is inspired by structures built there in the 1960s and 70s by Catalan architects Josep Antoni Coderch and Josep Lluís Sert, and makes use of local and traditional materials alongside warm, neutral colours. Studio Tarruella Trenchs oversaw the project, which positions the bar as the protagonist.
Made of glazed ceramics in varying shades of orange, guests can gather to enjoy a drink and watch the chefs in action below a suspended ceiling made from oak. An interior courtyard allows vegetation to become part of the establishment; complimenting custom-made wooden tables, and furniture from the likes of Santa & Cole, AOO, and Sancal.
With a menu that stars sharing plates and local ingredients true to the Balearic island's rich culinary heritage, all imbibed with En Compañía de Lobos's take on international dishes, Spot Palma is a fine addition to a growing roster from the mindful restaurateurs.
@encompaniadelobos
@tarruellatrenchs_studio