Situated within an early-20th century building with art nouveau influences in the up-and-coming 10th arrondissement of Paris, Cali Uptown is a restaurant from two sisters passionate about California and its pulsating lifestyle, and brings West Coast US vibes to the French capital. Serving up Instagrammable brunches, lunches, desserts and cocktails in a space inspired by the American diners of the fifties with a modern-day Palm Springs feel, the 'Cali Sisters' deliver bags of laidback Golden State vibes to these cooler climes.
Design comes direct from the source, with Los Angeles-based, Studio UNLTD, handling the refurbishment of the building, starting with the façade, its brickwork laid out in a modernist geometric pattern and painted bright white. Peacock blue columns at the entry make for a bright and inviting welcome, whilst floor to ceiling windows give passersby a view of the magic that happens inside; at the same time flooding the restaurant with an abundance of natural light.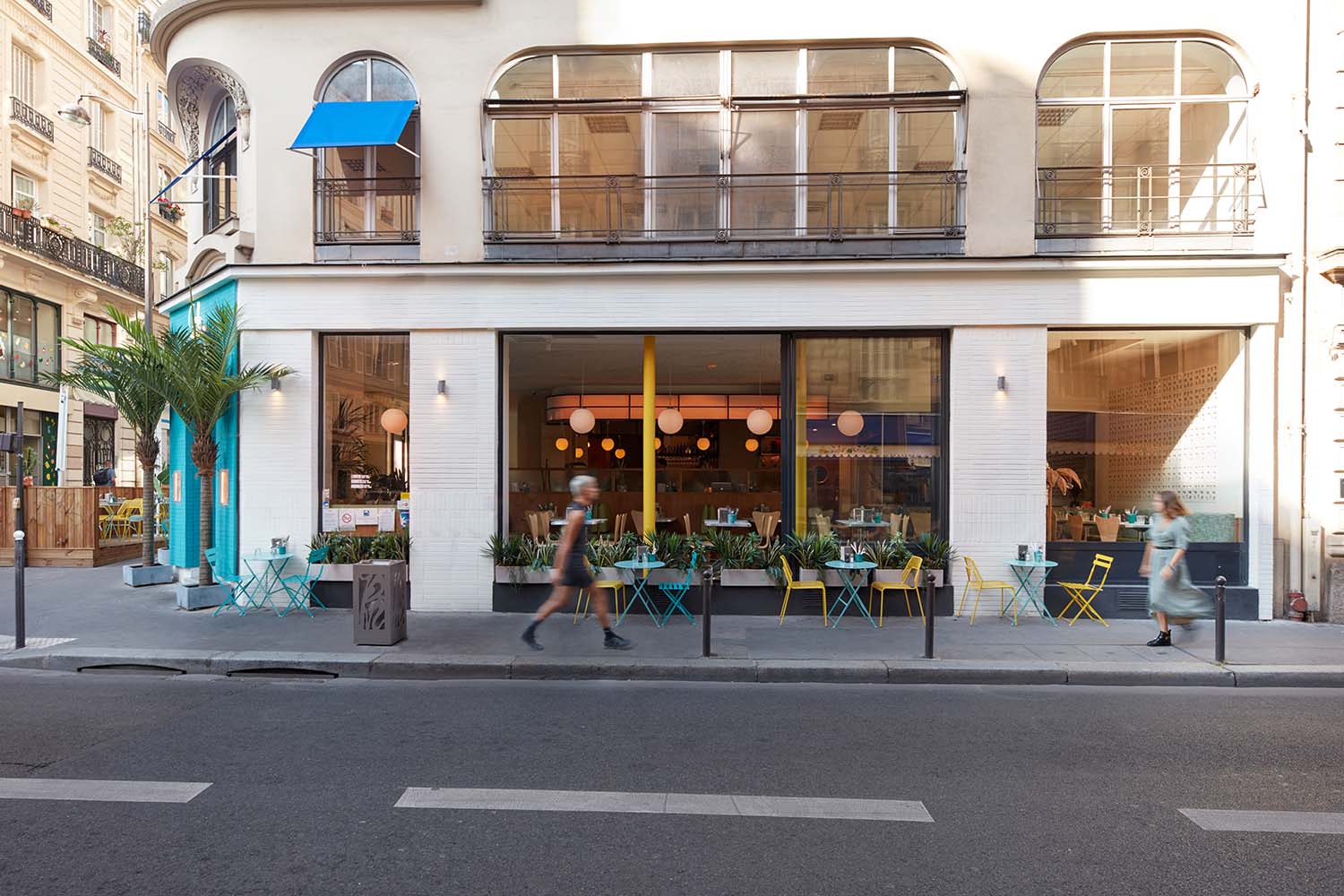 Interior architecture is minimal, with the structural columns of the building stripped raw to expose the pale stonework, against which punchy upholstery colours and loose fittings stand out. Patterns inspired by mid-century desert architecture can be found in the form of concrete breezeblock screens, as well as neutral sand-coloured brickwork mirroring the exterior of the building.
The focal point of the space is a horseshoe-shaped bar flanked by fixed bar stools that nod to those iconic roadside diners, whilst seating in the main dining room is varied and eclectic ranging from booths to banquettes. Tables sourced from United States restaurant supply stores feature laminate tops, chrome banding, and booths are upholstered in ivy green vinyl, all inspired by vintage car colours and contributing to an air of Americana authenticity.
A large skylight and lush greenery add an extra touch of the sleepy spirit of Southern California, making Cali Uptown a must-go diner for Parisians seeking sunshine and goodtime vibes.