Located on the ground floor of a late 19th century Haussmann building in the Grands Boulevards district of Paris's 9th arrondissement, Papi is the latest endeavour of Etienne Ryckeboer (the restauranteur behind Bulot Bulot); this time calling upon the talents of Japanese chef Akira Sugiura to create a menu of modern Italian dishes using seasonally sourced ingredients from eco-friendly producers and local artisans.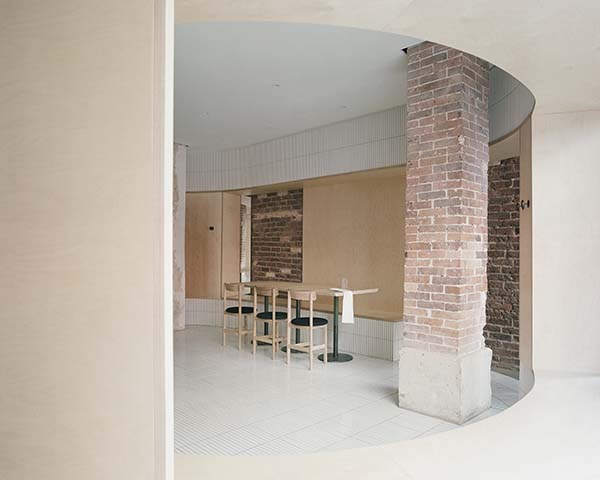 The compact 52 square metre restaurant was designed by inter-disciplinary architectural design practice, Neri&Hu, who have carried out a complete overhaul of the building's façade and interior space; respecting Parisian history and creating a modern and convivial place for guests to enjoy at leisure. Plates range from charcuterie and burrata to dough-focussed dishes, the pasta and pizzas made using yeast from the renowned baker, Thierry Delabre.
A raw-steel-framed fully-operable glass façade maintains a visual continuity between the street and the venue effectively extending the public realm into the interior, whilst inside, stripped-back walls, brick columns and light wooden furniture share a space with the chef's preparation counter and Papi's magical wood-burning oven. Juxtaposing old and new materials and adding mirrors to create a sense of space and "voyeuristic moments between interior and exterior," Papi Paris tells a story of sophistication; a place to enjoy the contemporary and culture-forward amid historical surroundings and the unforgettable grandeur of the City of Lights.