Typically displaying three characteristics—a clean, minimalist aesthetic, an emphasis on bringing the outdoors in, and the presence of angular structures—mid-century modern homes remain some of the most celebrated architectural styles of all time. Examples of such may be predominantly associated with the USA's west coast, but the world over, extraordinary homes can be found in diverse locations such as the Democratic Republic of Congo, Cyprus, Ghana, Sri Lanka, Iran, Tanzania, and Uruguay.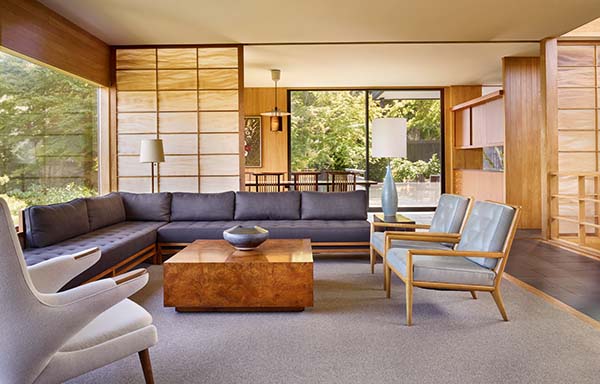 Taking a comprehensive look at the design-fanatic's favourite architectural style, Dominic Bradbury's Atlas of Mid-Century Modern Houses is published by Phaidon and features 400 houses by 290 architects; this stunning 440-paged hardback tome packed with 700 black-and-white and colour images from big name 20th century architectural photographers including Marvin Rand, Ezra Stoller, and Julius Shulman.
Highlighting the very best examples of this evocative aesthetic, readers can marvel at such gems as Stan Symonds's ocean liner-like Schuchard House, completed in Sydney in 1964 with views over Middle Harbour, a home clearly influenced by its surroundings; Kaufmann House, by one the most prominent and important modernist architects, Richard Neutra, located in Palm Springs, California, and boasting the typical features associated with the style, including open concept living and swimming pool; and John Dinwiddie's 1951-built Berkeley House, a veritable classic of its time.
A nostalgic take on a golden age of architecture and design, the photographs within are accompanied by a short and insightful text about the building's history, its architect and unique features; as well as information on its current state, with symbols used to describe whether the property is in good condition, standing or demolished.
A must-have for architecture aficionados and dedicated devotees of design, Phaidon's jouyful Atlas of Mid-Century Modern Houses is the quintessential coffee table book; a beautifully designed treasure serving as an exhaustive compendium for one of design's most epoch-making moments.