Affordable dishes with a great neighbourhood ambience and elegant interiors are combined at new Parisian restaurant Abstinence. Located a mere ten minute walk from the Eiffel Tower, the restaurant aims to awaken the senses of diners through creative cooking, seasonal produce and unexpected twists.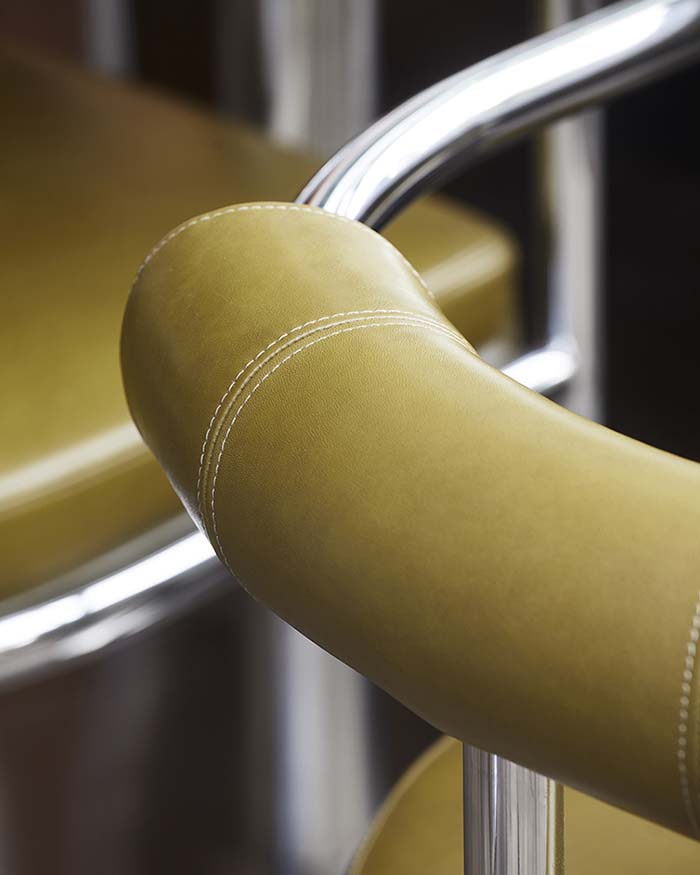 Designed by Studio Lizée-Hugot, a partnership between architects Stéphanie Lizée and Raphaël Hugot, the duo have fabricated a tasteful, intimate decor for the Paris restaurant. Taking a classic style and interpreting it in their own way, the designers have balanced a combination of smooth and brushed textures, materials, and a colour palette that nods to the cinematic mood of the 1970s.
Wood to leather. Stainless steel to marble. Noble materials have been used here; the studio also designing all of the restaurant's furniture, including tall chairs and stools with cognac leather seats on polished stainless steel frames, and a large bevel-cut sculptural bar made of Sarrancolin marble. The wood panelling found throughout is made of oak and bird's eye maple, and contrasts with the darker wood floor and lacquered ceiling. It makes the perfect backdrop for the restaurant with its open kitchen to the back of the marble bar, enabling diners to drool over both elegant design and the sight of the food being lovingly prepared.
Typical Parisian glamour given a slant atmospheric retro, creative cuisine and an iconic location, Abstinence Paris is a new neighbourhood restaurant with international appeal.