Nostalgia is hot right now. Perhaps a consequence of necessary escapism in the face of troubled times, consumers have been soaking up VHS-tinted memories from Stranger Things to sportswear since way before the bug we shall not mention. And when it's done well (as in the case of said Netflix blockbuster), packaged nostalgia brings on a warm sense of wistful gooeyness. At least for those of us old enough to remember arcade halls and BMX bikes the first time around.
The Duffer Brothers use layers of triggers to fill us with a yearning for Hawkins, Indiana, from impeccable set design to props and plot lines. But Hawkins remains what it is: fictional. Imagine a place where you could physically bask in that inspired execution of nostalgic bliss. A place that feels like the set of your favourite film you've never seen. Imagine no longer.
Set into a mountain overlooking the bay of Port de Sóller, Mallorca, the Bikini Island & Mountain Hotel is hospitality accomplished with all the precision of the Duffers. Put together by Bavarian design studio, DREIMETA, this Spanish storm of saudade transports you to another world, another time; whilst simultaneously allowing you to experience the very real natural beauty that surrounds you to an unfeasibly high level. It is a masterclass in conceptuality.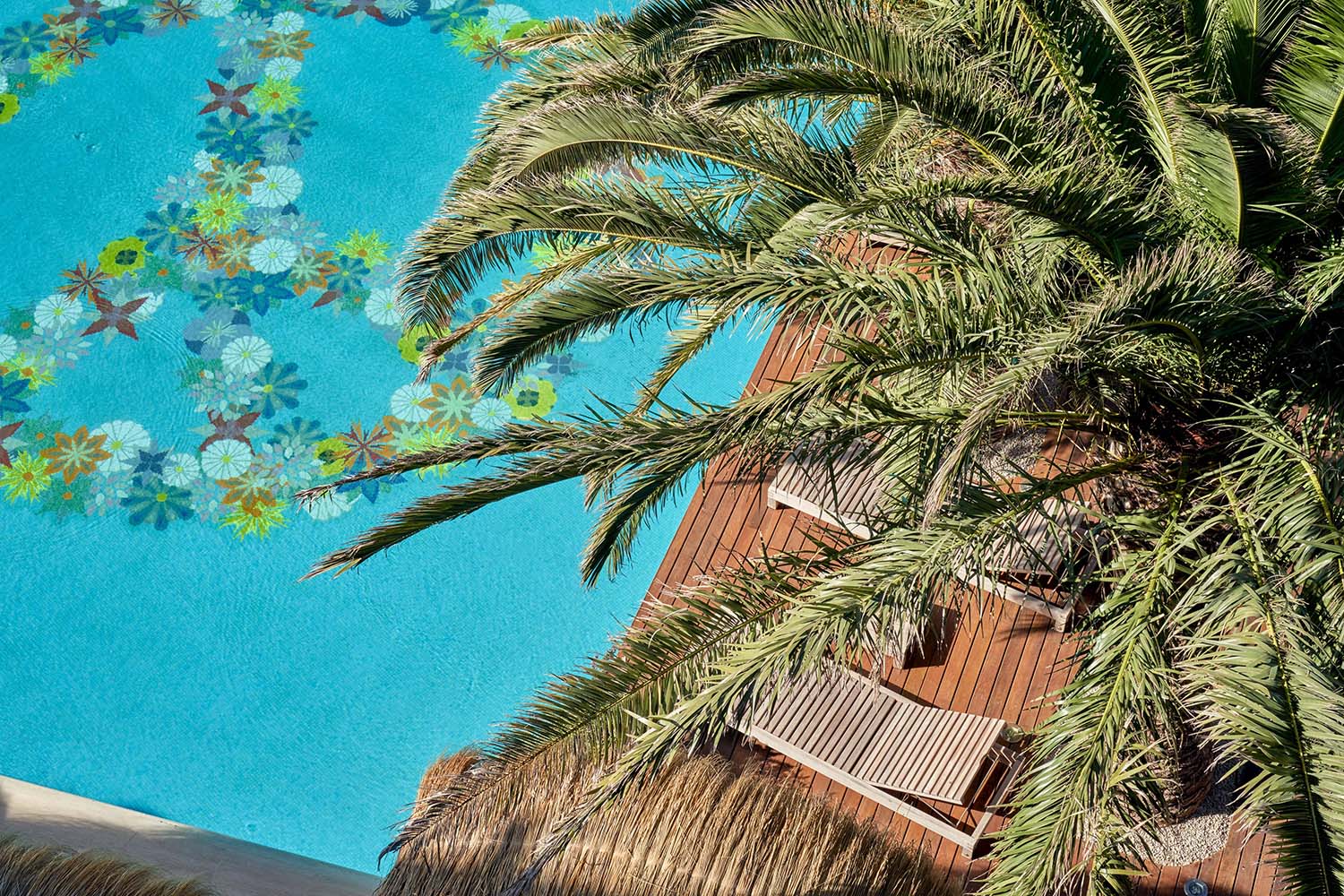 Mediterranean flower children
That concept is not playing Pac-Man nor the heyday of the American mall, rather an idealistic San Francisco of two decades prior. This nostalgic atmosphere takes us to a time of peaceful protest and spiritual experimentation. Overlooking the Mediterranean backdropped by the drama of the Tramuntana mountains, DREIMETA take us to the home of the flower children. Who said you can't have nostalgia for something you haven't experienced?
And that's the beauty of this execution. The Bikini Island & Mountain Hotel takes you on a fuzzy trip of vague recollection. It allows you to feel feelings you'd only previously imagined through old photos or television shows. It's a real-world experience carved out of a crackly old 7" copy of Scott McKenzie's San Francisco (Be Sure to Wear Flowers in Your Hair); a tangible reality fuelled by grainy Woodstock footage. And you don't want to leave the commune. In fact, we barely do over the course of four nights.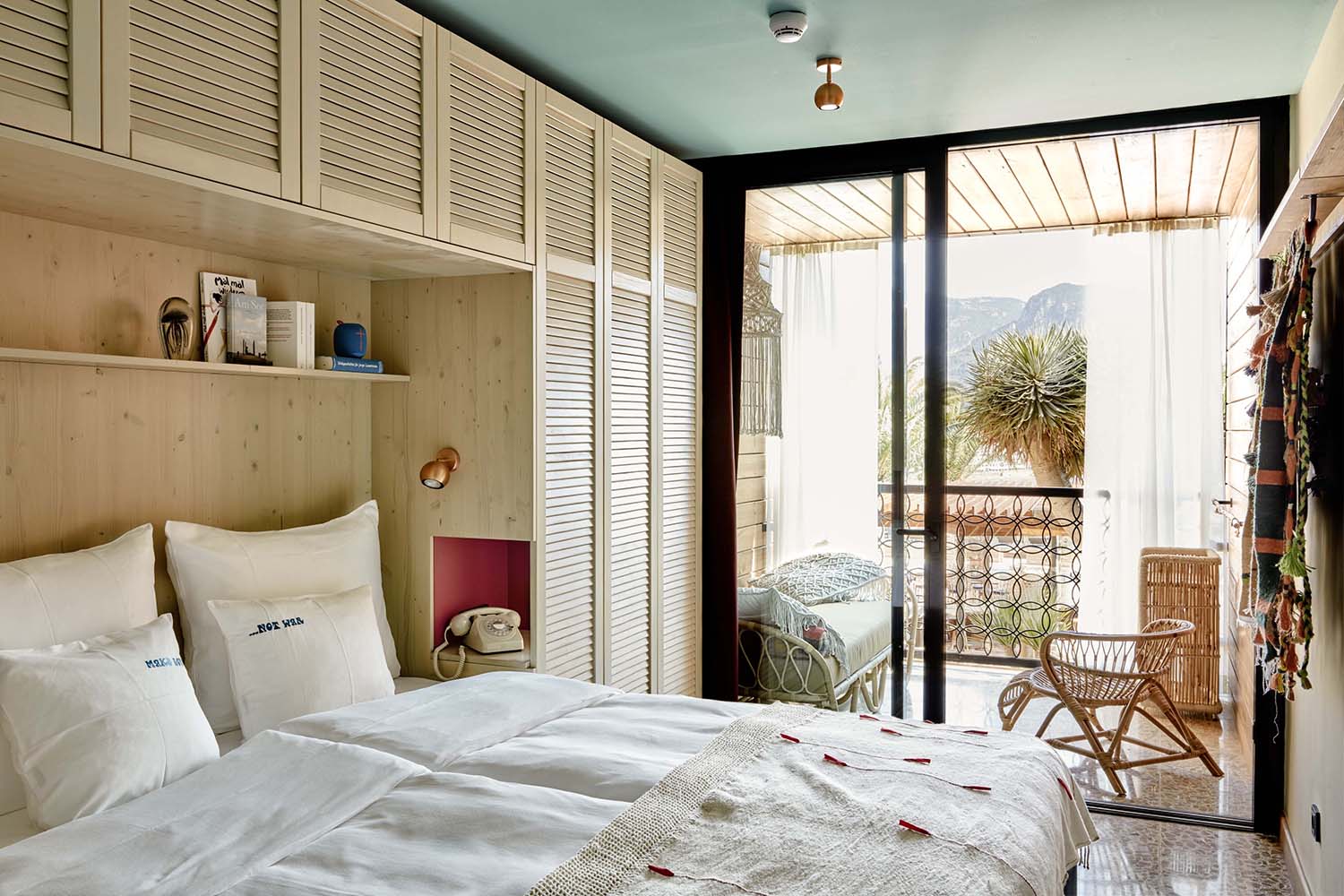 Personal paradise
Along with predictable amenities such as Nespresso machines and eco-friendly body products come joss sticks and candles. A UE Wonderboom Bluetooth speaker allows you to soundtrack your own storyline, whilst a flatscreen TV is hidden behind hippyish tassels of fabric; it says: "I'm here if you must, but please don't ruin the moment." A comfy daybed on the spacious balcony, from which to gaze longingly at those unforgettable views of the bay, completes the setting for nostalgic nights in paradise. Away from those rooms, there's so much more to inspire.
There's a music room stocked with vintage vinyl, cassette tapes and incredible old listening equipment; a library full of art, design and fashion tomes; a bar concept developed by Joerg Meyer of Hamburg's famous Le Lion Bar; mountain bikes to use and an open-air gym on the rooftop; a spa with sauna and steam room; a huge pool (complete with flowery CND symbol, of course) where you can tuck into tacos and frozen cocktails; and then there's NENI.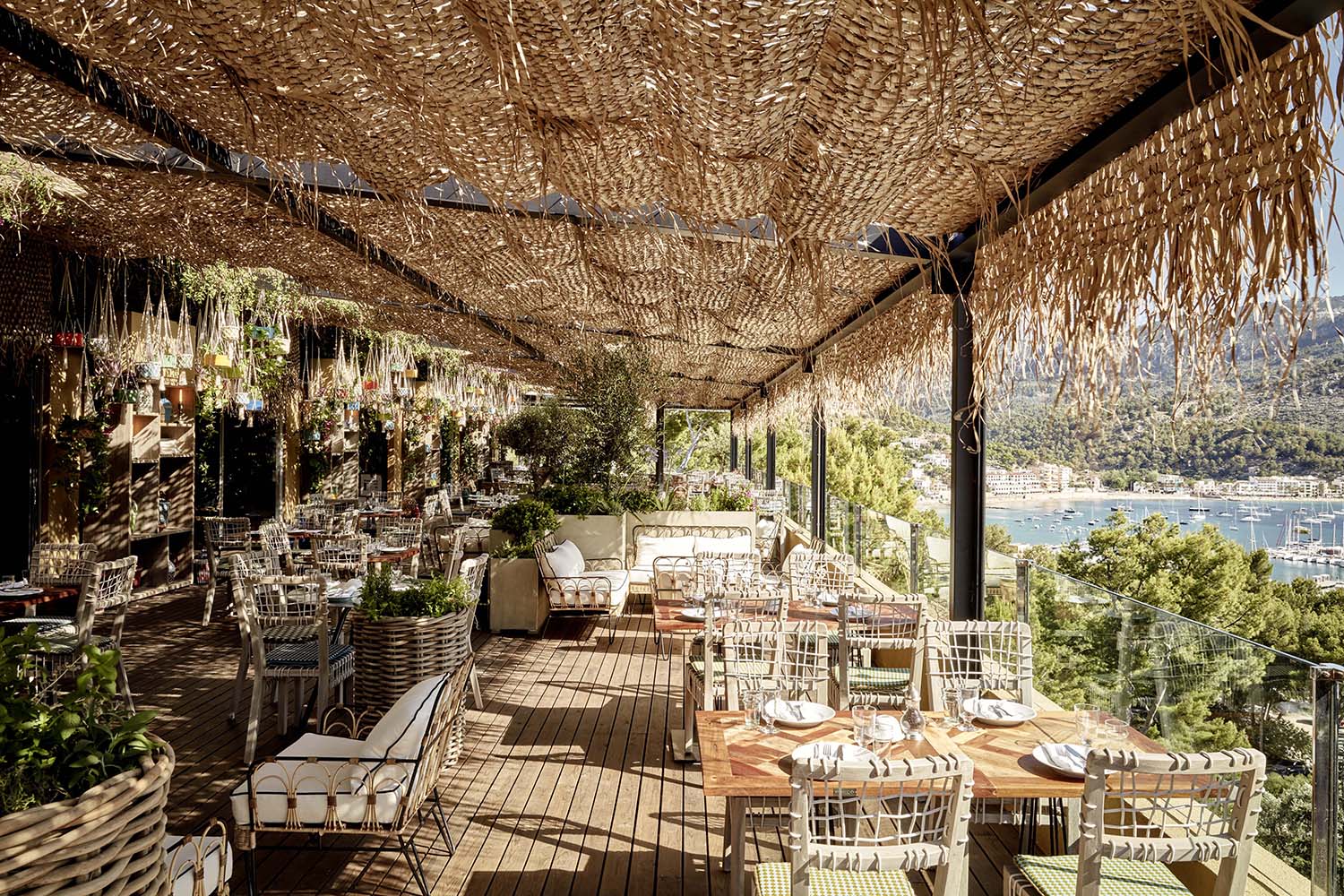 Tel Avivian cuisine
NENI is Bikini Island's restaurant, a destination in itself that is booked up a month in advance when we arrive. A divine space with an open kitchen and expansive terrace sprawling out across the rooftop of one of the building's wings, the restaurant's Tel Avivian cuisine is currently big news on the Balearic island; locals and visitors alike dazzled by dishes from a rack of lamb with Middle Eastern flavours and accompaniments like feta and gremolata or charcoal-grilled fish of the day to a whole host of plant-based mezze style small plates. It is also an Instagrammer's Elysium.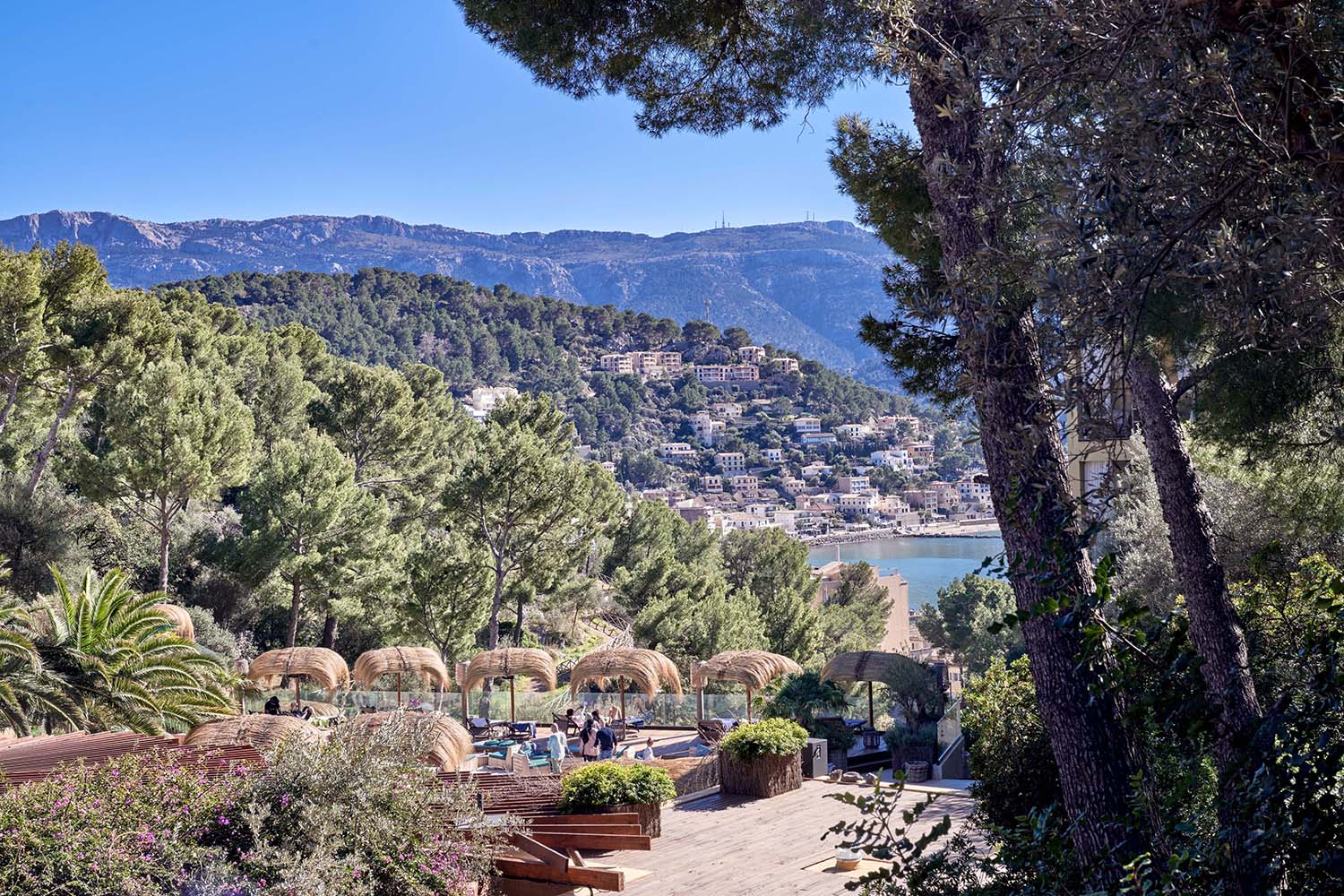 Port de Sóller and beyond
Beyond the perimeters of this nostalgic wonderland is one of Mallorca's most beautiful port towns, with restaurants, bars and a pretty beach. MiniBar is a no-frills little spot that has the best views of the blood-red sun dropping off the Mediterranean horizon. Largely untouched before the Sóller tunnel opened in the 1990s, the port has evaded the sort of overdevelopment that many of the island's resorts endured in the 1970s and '80s. The Tranvía de Sóller, a heritage tramway, was opened in 1913, and today still connects the port to the handsome town of Sóller, three kilometres inland.
On par with Bikini Island's powerful aesthetic and unrivalled atmosphere is its service. Attentive but friendly, there's a sense of an unpretentious city hotel, which is surely the result of the team behind the hotel's involvement in the likes of 25hours Hotels and Superbude. This cool but not cliquey approach is a welcome addition to island life, and demonstrates the difference this singular hotel delivers.
Views beyond compare, an extraordinary approach to concept and aesthetic, a restaurant the envy of Mallorca, impeccable service and a true one-off approach to it all, Port de Sóller's Bikini Island & Mountain Hotel is a destination design hotel for this blissful Balearic island. Make love not war under the scorching Spanish sunshine, and be sure to wear those flowers in your hair. Turn on, tune in, and drop out at a paradise of inimitable escapism. You know you want to.