A hospitality brand that prides itself on offering guests a contemporary, design-led hotel experience drawing upon local inspirations and traditions, PURO Hotels have redesigned their first ever Kraków property, the refresh—in collaboration with design office Paradowski Studio—debuting a new retro style that combines the the vintage glamour of the city with the clean functionalism of its mid-century modernist hotels.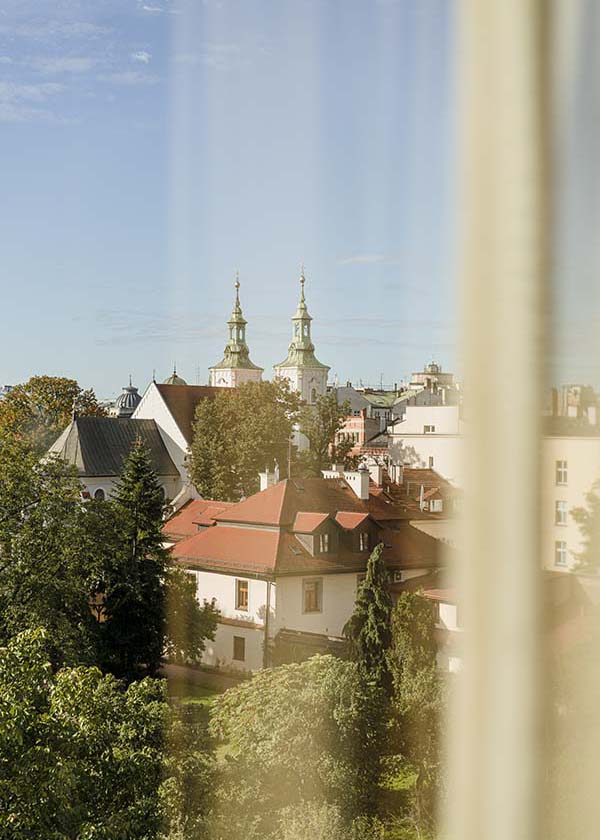 With a façade that evokes the grandeur of Kraków's socialist-era utopian suburb, Nowa Huta, guests enter the stirring design hotel to be greeted by an elegant and frankly unforgettable space; a space grounded in Kraków's sophisticated past, but realised through the vision of a youthful generation of talented designers. Simply stunning common spaces are a place for relaxing, guests encouraged to do so amongst stripped-back European furnishings sourced from Scandinavia and Italy, as well as The Netherlands, Britain and Germany.
Guest rooms boast a Hilding bed and the ability to the tailor the ambiance through touchscreen tablets. Ranging from the 'Classic' to the large and inviting 'Suite', rooms are flooded with natural light and filled with retro furnishings (check out that carpet) and local works of art. In fact, the new design of the hotel has seen an extensive reshuffle of the hotel's art collection, the lobby and communal spaces featuring abstract painting, collage and photography by local artists including Tomasz Baran, Małgorzata Malwina Niespodziewana and Tomasz Wiech.
Locals and travellers can mingle at Hint, the hotel's gastropub, which is open until 10:30pm and serves something for every mood. Classic and comforting dishes include caesar salad and dirty fries (smothered in parmesan and truffle oil or bacon, pepper and cheddar), whilst for the hungry and cold, a spicy duck stew, beef burger or fish and chips with caper and chive sauce will put a brisk winter evening to bed nicely.
A place for discerning travellers to coexist in forward-thinking surrounds, the newly renovated PURO Kraków Old Town is another winner for the design hotel chain with impeccable taste and consistency.
@purohotels
@hint.krakow
@piotrparadowskistudio
@pionfotografia