PURO Hotels have focussed their attentions on Poland's third largest city and former textile manufacturing hub, Łódź, for the opening of their latest destination design hotel.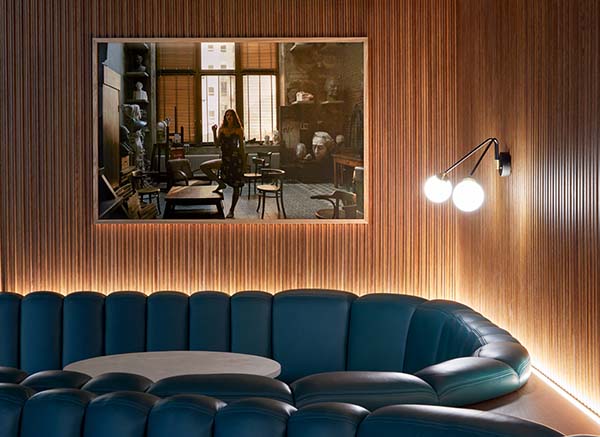 The forward-thinking hospitality brand—that boasts culture-conscious properties in Gdańsk and Kraków among other key Polish cities—consistently provides its guests with a contemporary, design-led hotel experience that draws upon local artistic and culinary inspirations to create authentic encounters; and PURO Łódź, a new hotel in the home city of Polish cinema, is cut from the same cloth.
Fusing elements of retro contemporary with post-industrial chic, the design hotel—situated between the opulent Neo-baroque Poznański Palace and the renovated red-brick factory complex and arts centre Manufaktura—features 130 rooms (including seven suites) which have been designed in a modern, minimalist style with chic amenities and a ridiculously comfortable bed complete with Hilding mattress.
London-based design studio SuperFutures conceptualised the interiors, creating a space where guests can immerse themselves in a visual story of stripped-back, classic design; PURO Łódź's sophisticated aesthetic the perfect complement to the hotel's surrounding neighbourhood and industrial heritage. An onsite cinema pays homage to a city so intimately linked to film, and throughout the building—redesigned by ASW Architects—guests can peruse artwork crafted by the community of local creatives that nods to the city's avant garde past.
Up on the roof with views over Poznański Palace, Spirit Bar is a great spot to while away a few hours in the evening—perhaps following dinner at Miska Gastro Bowls, the hotel's restaurant that serves up Asian-inspired dishes made using organic ingredients. Guests can start the next day at Biotiful Healthy Snack Lab, where wholesome breakfasts, juices and brews are sure to set you up the right way. And, after a few hours pounding the streets of Łódź, head back to the design property and treat yourself to a treatment or two at PRISMA Spa, with its selection of rejuvenating treatments and energising therapies.
@purohotels
@superfutures_design