PURO Hotels have collaborated with design studio DeSallesFlint on their first Warsaw venue, choosing the vibrant heart of the city—a place where youth culture continues to reinvent itself—to call home.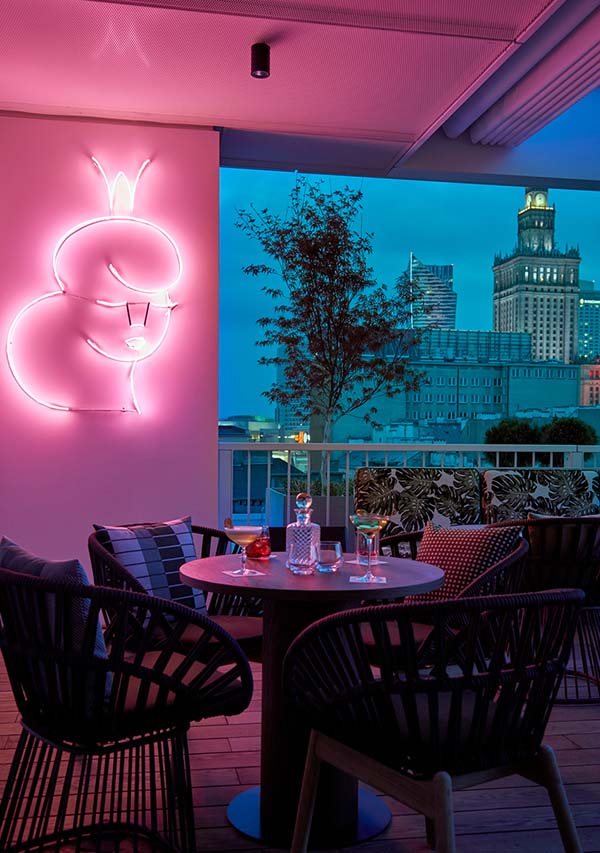 The interiors in this 148-room property evoke a sense of finesse alongside contemporary simplicity, each kitted out with Bang & Olufsen speakers; Hilding beds; and Golran 1898 hand-tufted rugs—DeSallesFlint having created a youthful and eclectic hotel that blends seamlessly with its many culturally-conscious neighbours in central Warsaw.
Guests are encouraged to hang out wherever they please, the photogenic public spaces throughout PURO Warsaw featuring lust-worthy furniture and design statements from top European names such as Moroso, Kettal and Fredericia and Fogia, as well as Mia Hamborg and Lorenza Bozzoli, the latter's luxurious poufs offset by the sleek functionality of a series of totem coffee tables from Sovet.
Chef Mateusz Wichrowski heads Italian eatery, MAGARI, a lush space where diners can enjoy authentic ingredients, dishes including charcuterie, cheese boards, pizza, meat and fish bursting with flavour, whilst upstairs at Loreta—the hotel's decadent urban rooftop bar—cocktails and cityscapes can be lapped up to the backdrop of a curated music selection).
After partaking in the extensive programme of activities—from walking tours to masterclasses, bike tours and DJ sessions—treat yourself at PRISMA, a spa that brings together a full range of wellness facilities, at the same time offering guests the perfect respite and a moment of calm before enjoying all that the latest lavish hotel from PURO and its buoyant city has to offer. Namaste.