We Heart are big fans of PURO Hotels' forward-thinking philosophy and the design-led experiences that come hand-in-hand with their brand. Having opened up their 'largest lifestyle hospitality' project to date, the team were imbibed with some excitement. And the images coming out of their new Kraków design hotel do not disappoint.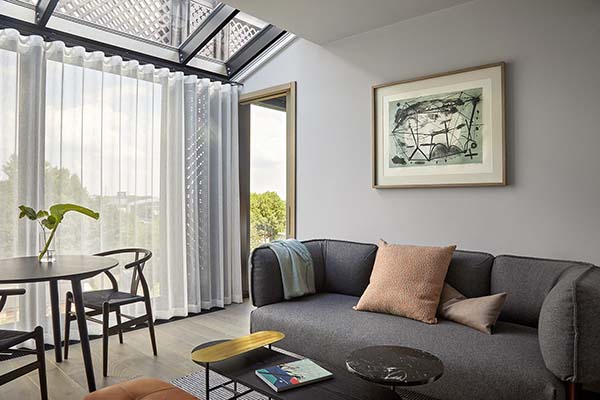 A neighbourhood once known for its neglected state, Kraków Kazimierz is making the most of its gentrification phase, cramming the historic streets with pavement cafés, art galleries, and independent shops. With its 228 rooms and suites, PURO Kraków Kazimierz is just the spot for design-savvy travellers to rest their heads after a day exploring all the creativity that surrounds the former Jewish quarter.
International designers and makers have worked with the brand to create contemporary and curated spaces, guests bedding down in rooms filled with natural light, stylish furniture, and works of art by Polish illustrators that are inspired by their emotional reflections on Kazimierz. With street art an essential part of the experience, Kraków native Nawer was commissioned to create a futurist graffiti mural on the hotel reception wall—whilst Spanish contemporary artist Javier Martin's neon installation overlooks guests in the hotel's imposing lobby.
Gastronomy offerings at the property include MAK Bread & Coffee and Halicka Eatery & Bar, and for those who overindulge on freshly baked bagels, sweet treats, and Polish cuisine, the hotel offers a schedule of activities designed to kick-start body, mind, and desires—whilst the PRISMA Spa is the place to relax before resetting later on with a craft cocktail or crisp wine. Another fine project from PURO Hotels, another creative getaway in a culturally active corner of Poland. They're on a roll.