Whether you're a fan of midcentury modern design, the beguiling architecture of 'Desert Modernism', arresting photo books, adorable dogs, or—as one rightly should be—all of the aforementioned, Palm Springs: Modern Dogs at Home is the publication your collection has been craving.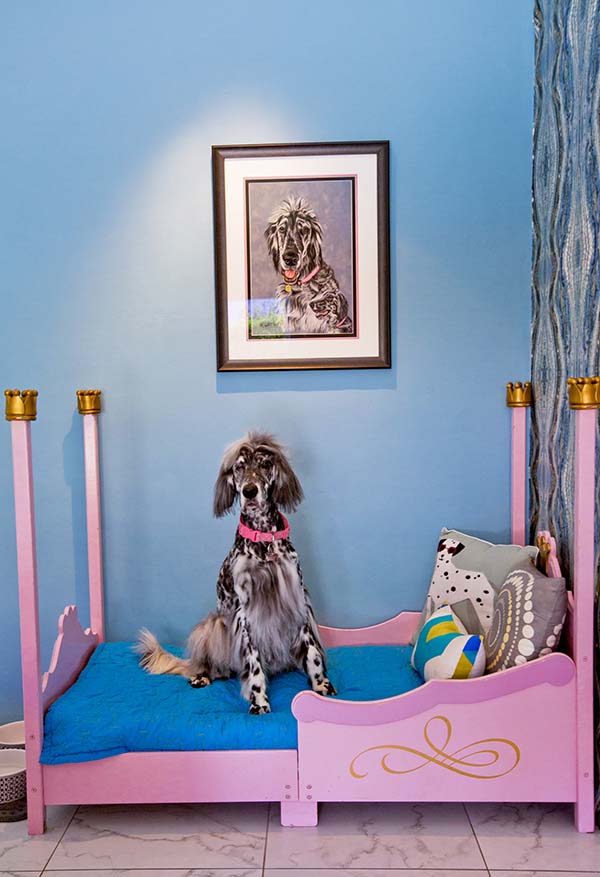 Published by Schiffer Publishing, the title from photographer and Palm Springs resident, Nancy Baron, proffers a glimpse into the life of locals, Baron capturing their precious pooches doing what they do best: lazing carefree inside and around their houses and grounds; the images showing both happy dogs and the iconic architecture that this southern California hotspot is famed for.
Featuring an essay by journalist Bob Merlis, and quotes from Sia—the Australian-born singer and animal rights advocate who splits her time between LA and Palm Springs with her pups Lick-Lick, Pantera, and Cereal—the 128-page hardback is made up of 54 vivacious photos containing a caption informing the reader of the names and breeds of each furry friend, the architects behind the homes, and a short narrative about why the dogs and properties are loved so much.
Meet Charlie the standard parti poodle; Brick the Boston terrier; Tippi, a boxer/bulldog cross; Abbey the English setter; Cooper the basset hound, and many more. Learn how these dogs have transformed the shell of beautiful architecture into spaces of heart and soul; the heartfelt words of the owners describing how their animals' unconditional love not only enriches their lives but finally made their houses a home.
Palm Springs: Modern Dogs at Home by Nancy Baron is available now from Schiffer Publishing.
@nancybaron_
@SchifferPublishing