Acting upon a childhood experience of once upon a time being left alone in a car, left to worry whether anybody would ever return to him, Hoxton Mini Press co-founder Martin Usborne began a develop an affinity for animals and the circumstances they sometimes found themselves in at the hands of humans. Channeling this anxiety into something positive, cinematic photobook The Silence of Dogs in Cars was born; initially published as a large format book by Kehrer Verlag, and now as a more compact, 96-page publication from his own publishing house.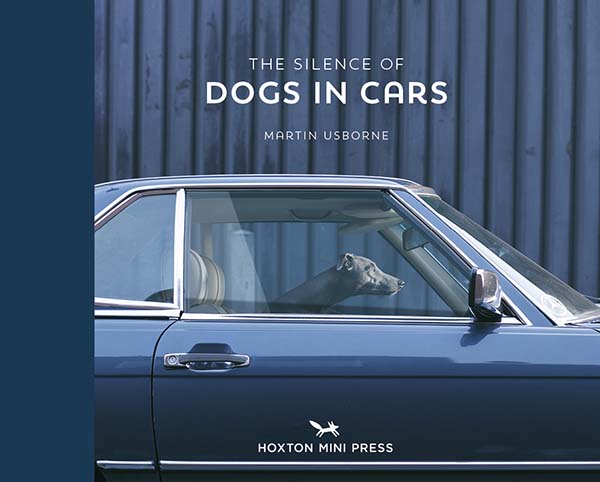 The whimsically staged photography saw Martin leave stickers on the windows of captivating cars in East London, requesting to "photograph your car and put a dog in it"; the photographer thankfully not able to find any dogs left alone in cars. Highlighting a mixed bag of emotions from the subjects—sadness, expectant, curious and alert—the dreamlike imagery is at times funny, strangely chimerical, always heartwarming.
"Less a wallow than a consolation," says Lucy Davies of Usborne's images in the book's introduction. "To be sometimes lonesome, sometimes apart or adrift is inherent to being human. Look closely and a spiny vein of humour shivers through them. What they map is common ground rather than abbreviation." Maus the whippet, who features on the front cover; Shep posing in a Volkswagen Campervan on the beach; Bones, Alfie, Milo and the many loved and card-for dogs that star … The Silence of Dogs in Cars is a quiet riot of solitude and the parallels we share with our four-legged friends; parallels the subjects are more honest to portray than their closed human companions.
Usborne assures that no animals were hurt in the making of this book, and that many enjoyed the ham, cheese and cuddles they received throughout. Published by Hoxton Mini Press, The Silence of Dogs in Cars by Martin Usborne is available now.