With Palm Springs's annual Modernism Week underway, focus is again on the desert oasis of unrivalled mid-century architecture. Becoming a fashionable resort in the early part of the 1900s, the Californian desert town began taking real shape when the Frank Lloyd Wright-designed Oasis Hotel sprang up in 1924. It was the prelude to a hive of activity. By the 1930s Palm Springs had become a hit with the stars; nightclubs and casinos catering to the big names looking for a respite from the bright lights of Hollywood.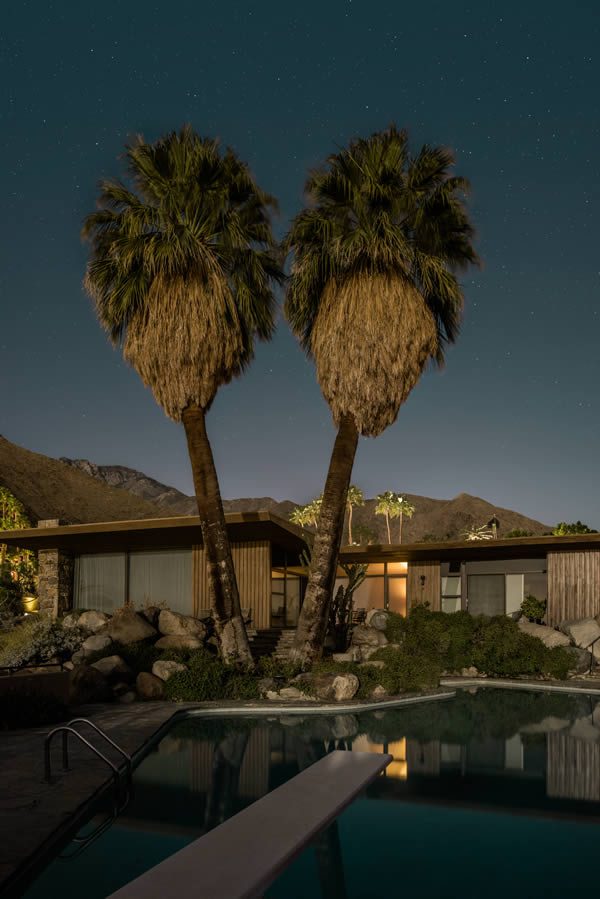 As the iconic mid-century modern design movement gathered pace, its big names were called upon by celebrities demanding the latest trends. Frank Sinatra; Steve McQueen; Sonny Bono; Dean Martin; Elvis … the biggest names in showbiz were demanding the biggest names in contemporary architecture: John Lautner; Donald Wexler; William Krisel; Albert Frey …
Today, Palm Springs is in the midst of a new bohemian revival; the creative class seeking their own desert oasis, spearheaded by hip hotel brand Ace Hotel moving out here in 2009 — the lure of some of the world's finest architecture impossible to resist. Building on the photo-documentary work of greats like Slim Aarons and Julius Shulman, Australian photographer Tom Blachford presents Palm Springs's iconic architecture in a new light. Literally.
Shooting solely by moonlight, Blachford's Palm Springs errs on the surreal, its world-famous architecture lending a cinematic aesthetic that conjures up the sort of sensual film noir many of their former residents may have starred in. Shot over the course of three years, Blachford's Midnight Modern was made possible by the Australian's close working relationship with the Palm Springs community, who granted him access to some of the area's most coveted architectural jewels: the Kaufmann Desert House, Edris House, Frey House II, Frank Sinatra Twin Palms Estate … each captured on long-exposure under the moon's eerie glow.
Now captured in a 144-page photo-book, published by powerHouse Books, Tom Blachford's Midnight Modern — complete with foreword by the Palm Springs Modern Committee's Chris Menrad — is an otherworldly document of these historic homes as they've never been seen before.