There are few places on this earth more emotive to artists and dreamers than the American desert. Its uneasy alliance with the American Dream, and the fading iconography of Americana, its vastness and kitschness and curious characters.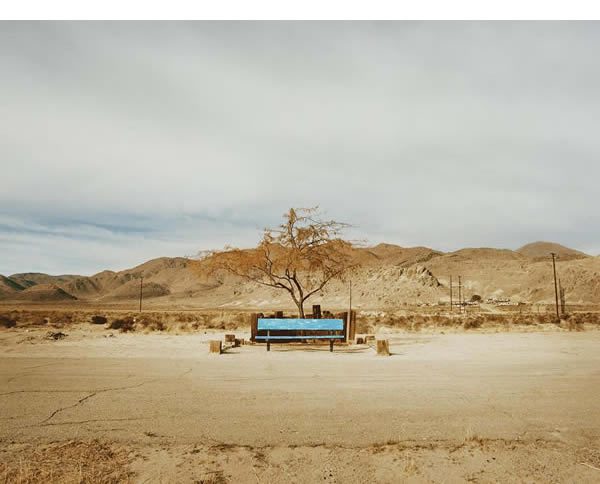 It can be the romanticism of unearthing crumbling remnants of the Space Race or the golden age of American road trips; it can be the fascinating marks man has made on this hostile environment (Marie-José Jongerius, or Jane Hilton). Whatever it is, those sunburnt hues and their woozy stories are impossible to resist. Eeriness and lives frozen in time, inexplicable oases of glitz or cut-off communities ignorant of, or in denial to, the dissolution of the American Dream — both the physical and social terrains of the desert are equally demanding to navigate.
In a new exhibition at Berlin's Kehrer Galerie, two art photographers draw a line in desert's sand, presenting an anxious juxtaposition of those much traversed terrains. On one side, Los Angeles-based Pamela Littky delivers a portrait of two towns and two communities who both lay claim to the title of 'Gateway to Death Valley'; Palm Springs's carefree community of midcentury modern enthusiasts offer a sharp parallel in Nancy Baron's glamorous portrayal of the Californian desert.
With two monographs — The Good Life > Palm Springs (2014) and Palm Springs > The Good Life Goes On (2016) — dedicated to the town she calls home, Nancy Baron's desert is a bright and beautiful oasis, where a tight-knit group of self-proclaimed modernists are dedicated to the midcentury modern look and lifestyle, and the preservation of its world-renowned architecture. Documenting Baker, California, and Beatty, Nevada — two towns similarly suspended in their past — Pamela Littky's is of stark contrast, but one where she finds her own singular beauty; intimate portrayals of communities that time forgot, glimpses into the lives of people who remain where most merely pass through.
Nancy Baron and Pamela Littky's American Desert Dreams continue at Kehrer Galerie, Berlin, until 6 May.