The Mojave Desert and Joshua Tree National Park were the unexpected inspiration behind the aesthetics of home-meets-hotel brand Locke's latest opening, Bermonds Locke; London-based interior architects, Holloway Li, using repurposed materials and abstract design to bring the Bermondsey hotel to life.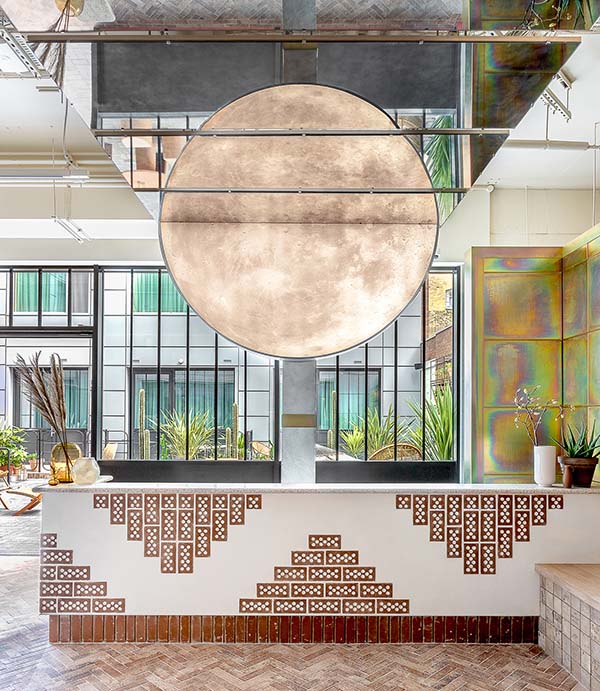 With The Shard, Tower Bridge, and Shad Thames all close by, the latest design-friendly den from Locke is an urban oasis for the lively SE1 neighbourhood; the impressive 143-room property designed to be lived in, with each of the apartment-style studios boasting its own fully functional kitchen, laundry facilities and ample space from which to work, invite friends over for dinner, or simply to kick back and relax in.
The psychedelic experience of Joshua Tree underpins the design narrative and, as such, the upper floor apartments feature blue, beige and grey hues, whilst saturated vibrant reds feature throughout those on the lower floors. In keeping with the brand's functional living ethos, rooms can be rented from one night to three months, guests of all durations enjoying bespoke bed frames woven from blackened rebar and accented with linen canopies to infuse old notions of the concrete jungle with a new sense of sanctuary throughout their time.
In the public spaces, Bermonds Locke resembles an iridescent sanctum from reality, Holloway Li designing a moonlit reception bathed in a glittering mirage created by overhead mirrors and inspired by The Weather Project by Olafur Eliasson. Marking a new design direction for Locke, the designers have curated a living experience carved out of recycled construction site materials to adorn the bar and restaurant; co-working spaces; gym and yoga room; as well as the guest studios.
With all of the above amenities and more, a colour palette designed to soothe and calm, this is a place to truly feel at home. Be that in your studio; the co-working space; The Dairy Bermondsey, chatting with other guests over a bite or beer; Bermonds Locke is an open house to take advantage of all it has to offer. Turn on, tune in, drop out.
@lockehotels
@_hollowayli
@thedairybermondsey
@shaman.coffee