'The Versailles that I have been dreaming up is a place that empowers everyone. It invites visitors to take control of the authorship of their experience instead of simply consuming and being dazzled by the grandeur. It asks them to exercise their senses, to embrace the unexpected, to drift through the gardens, and to feel the landscape take shape through their movement.' — Olafur Eliasson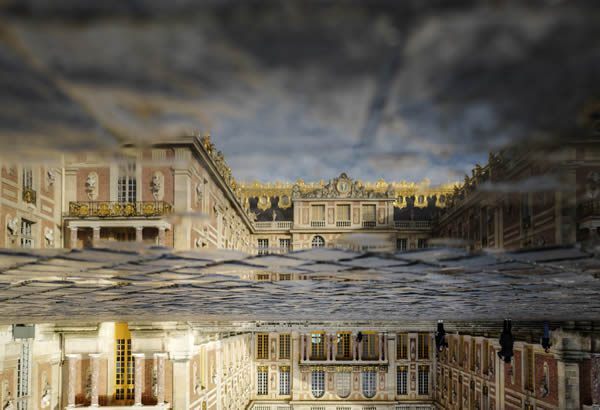 Following on from the esteemed likes of Anish Kapoor, Jeff Koons and Takashi Murakami, environmentally-conscious Danish-Icelandic artist Olafur Eliasson (eternally linked to his incredible The weather project installation, that dominated Tate Modern's Turbine Hall in 2003) has been occupying the former home of Louis XIV recently; the Palace of Versailles having welcomed noted artists to its grand halls and gardens each summer since 2008.
Continuing his theme of stimulating reflection on climate change — as in his Ice Watch collaboration with scientist Minik Rosing, where the duo plonked 12 huge blocks of ice totalling 100 tonnes in front of Copenhagen's City Hall Square — Eliasson fills a fountain with glacial rock flour (a byproduct of glacial erosion), erects a gargantuan artificial waterfall, shrouds the garden in clouds of mist, and plays with light and space inside the palace.
'Metaphors of water, diffraction of light, confusion of mirrors, intensi ed emotions, moving shadows: Olafur Eliasson wants the visitor to take possession of Versailles alongside him. And it is an augmented reality that imposes itself, an engine room of the imagination, and one not so fundamentally far away from that which captured the hearts of the 18th century.' — Catherine Pégard (President of the public Establishment of the palace, museum and national estate of Versailles.)
Olafur Eliasson Versailles continues till 30 October.