Locke open their sixth property in London and their thirteenth overall to date, the lifestyle brand having chosen Kensington and Chelsea as home for its latest design-led aparthotel concept.
Comprising 121 apartments ranging from studios to duplex one bedroom apartments, and spread across eight floors of a property on Cromwell Road boasting original Victorian features, arched windows and private garden, each space here at Ember Locke is a cabinet of curiosities; a boudoir from which to eat, work, play, sleep, and repeat.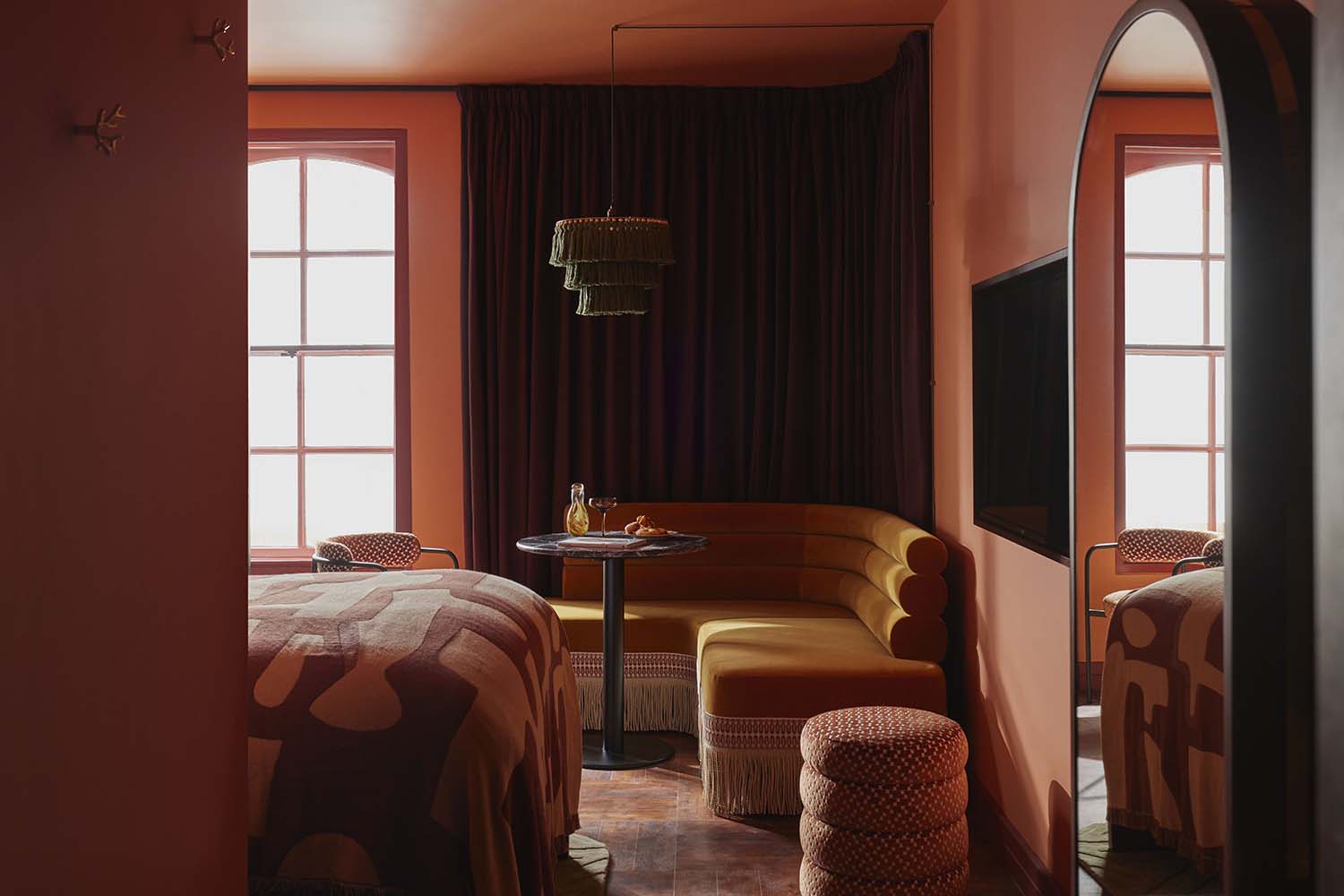 Designed in collaboration with studios Atelier Ochre and House of Dré, interiors are warm and distinctive with soft ambient tones. Casual, bohemian spaces welcome guests a place to relax from the buzz of Cromwell Road and include a lobby, garden, coffee shop, bar and coworking space. Inspired by the late Kensington Roof Gardens and the laissez-faire flamboyance demonstrated by the iconic mid-century fashion brand Biba, an Art Deco design style is combined with 21st century retro futurism, ensuring the interiors offer a nostalgia-soaked reimagining of over a decade of glamour in this very well-to-do part of the capital.
Art Deco details also feature in the apartments, Ember Locke's curated rooms featuring colourful tones and vibrant patterns designed to transport those staying to a bygone, yet fundamentally contemporary era. From sweeping banquette seating, deconstructed wardrobes and retro fittings, to elements of glamour that include brass detailing and fringes, these boudoirs scream the opulence and sophistication you'd expect from one of the city's most exclusive neighbourhoods.
Communal spaces feature bright fabrics, crafted furniture and fine rattan structures, while opulent planting carefully frames the view towards Ember Locke's extensive garden. Food and drink offerings include EVE — a restaurant, bar, and café inspired by the flavours of eastern and southern Mediterranean regions — that is slated to open later in the year.
With the city's best museums and shopping locations close by, Ember Locke is the most well-heeled Locke to date, yet retains much of the contemporary design and down-to-earth vibes that has made the brand such a hit on these pages.
@lockehotels
@atelier.ochre
@houseofdre._