Located behind the the Apple Store at number 10, Rue des Drapiers, Brussels, BUDDY BUDDY is a passion project from Julien Gaucherot and Matt Samra, and is Belgium's first nut butter café; the idea born from the partners' personal transition from vegetarianism to veganism, and a need to increase the amount of protein this change in lifestyle would result in them consuming.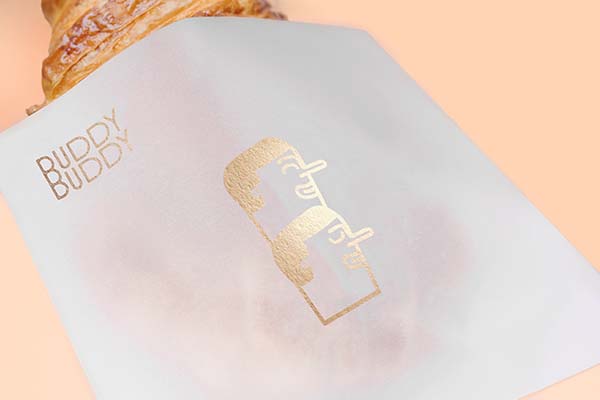 Although restrictions enforced by the government in relation to the Coronavirus outbreak means they can no longer offer their all-day breakfast and lunch menu, Gaucherot and Samra are taking the opportunity to commit to the production of nut butters, selling them in-store and online; alongside a selection of coffee, iced-teas, and vegan baked goods, all freshly produced and sold from their stunning HOP Architects-designed café.
As well as the traditional and typical 'Peanut' butter, this Begian atelier currently hand-crafts a further three nut butters; Almond, Protein and Hazelnut Chocolate, each produced in small batches and made on-site. Versatile and tasty, they're also high in plant-based protein, fibre, healthy fats, vitamins and minerals, whilst low in carbs. With branding by Mexico City-based graphic studio Futura—who have eye-popping previous with Mexico City's Motín and Blend Station II—the packaging is as appealing as the product.
With Wes Anderson-inspired geometric shapes and its unforgettable white and pink 'split' colour scheme, Amsterdam-based studio HOP have brought to Brussels a new aesthetic, and one that complements the city's premier nut butter atelier superbly.
@buddybuddy
@hop_architects
@byFutura