Boasting original illuminati top brass the Rothschilds, fashion house founder Jeanne Lanvin, and Italian-French actor and singer Yves Montand as long-time 'regulars', The Haitza (as it was known upon opening in the 1930s) is located within an imposing neo-Basque building in the French town of Pyla-sur-Mer; and was quite the place to rub shoulders with the rich and famous. Should your bank balance have allowed it.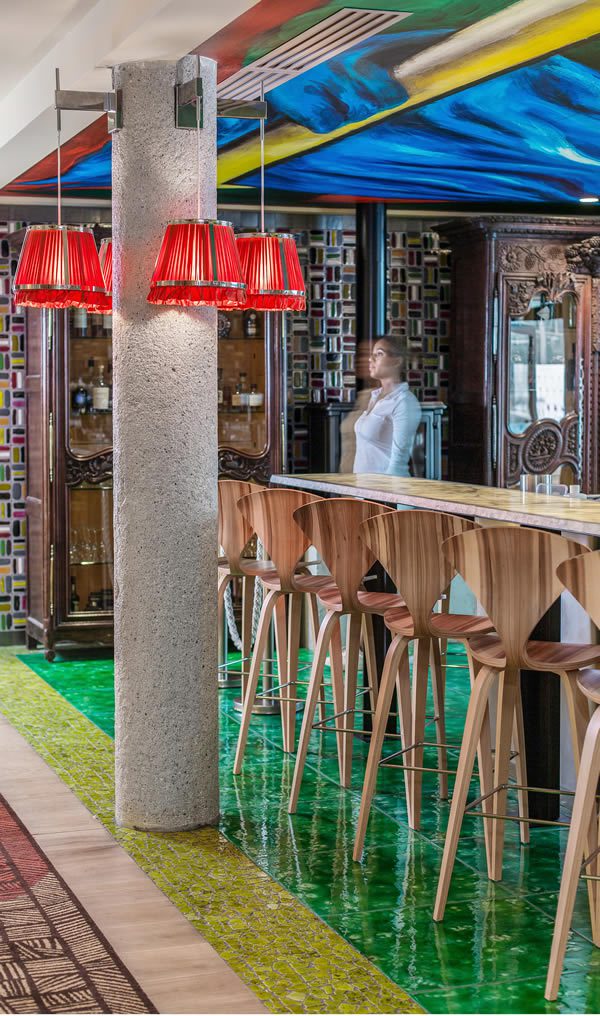 More recently, the property has been acquired by Sophie and William Techoueyres, a couple with a passion to 'reawaken the hotel's panache of yesteryears, to welcome their friends and let them discover the lifestyle and the charms of this region that they adore'. Renaming the hotel Ha(a)ïtza, its interiors have been completely revised by Philippe Starck — who imagined Ha(a)ïtza as a paradox: 'from the gravity of the Rock rises fantasised worlds from our collective imaginary'.
Lost in translation or not, Starck's fantasy becomes apparent as soon as you step through the grand doors into the hallway; an airlock between reality and Ha(a)ïtza's world, polished brass feature the names of emblematic figures, a contrast to the super modern reception with its concrete floor and immaculate walls, looks that embrace the assurance of a New York gallery fused with romantic notions of its past.
Starck's instantly-recognisable motifs are evident throughout Ha(a)ïtza, nowhere more so than in the hotels' decadent rooms. Split over four floors, thirty bedrooms, five suites, two Junior suites and a 120 m2 apartment embody the seaside with strong symbolic elements belonging to both the bay and more distant coasts; white and wood-striped walls, orange, red and green glasses typical of seaside house windows, and Portuguese marble bedside tables. Braided rope, stainless steel and light woods reflect the Bay of Arcachon's spirit in contemporary style.
There's a true mix of creature comforts and lashings of design sensibilities here at hotel Ha(a)ïtza; whether lounging on the terrace, around its pool, or enjoying an aperitif in style, the wantonness of its yesteryear stars remains in abundant spirit. This Pyla-sur-Mer hotel is a very special proposition indeed.