Serving burgers the right way—fresh, juicy and cheesy with the finest produce crammed between a delicate brioche bun—Cologne burger bar, Otto's, is the place to go in the largest city on the Rhine for great quality fast food; alongside a welcoming vibe and affordable prices. Not to mention incredible design.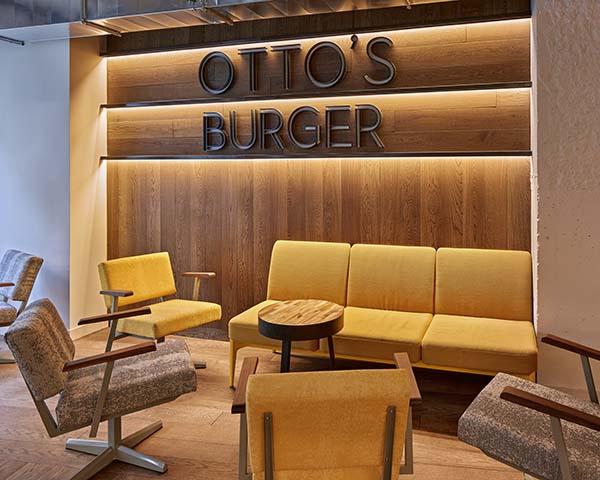 Occupying an L-shaped plot in a former bakery, the burger joint is wrapped around a corner building with the main entrance found on Severinstrasse; a 995-metre-long street that connects the city from north to south, and dates back to the Roman era. Designers Studio Modijefsky looked to the history of the building for their inspiration, linking the past with the present to create a space that merges the rich history of the property with a slick modern day appeal.
Divided into four distinct areas that come together under a straightforward graphic language—that not only enables diners to flow seamlessly throughout the restaurant, but that also fits perfectly with the identity of the brand—a few hours passed at Otto's is not only a delicious experience, it is one surrounded by fine design and aesthetic nuances; including plenty of lighting, signage, tiling and wooden seating from which guests can drool as they watch they're patties being prepared in the open plan kitchen ahead.
Build up an appetite, grab your friends and head on down to the Severinstrasse; a veritable feast of messy meat monsters counterbalanced by sleek and sophisticated design awaits.
@ottosburger
@studiomodijefsky