Studio Modijefsky have redesigned former tearoom and national treasure, Blauwe Theehuis, converting it into a taproom for Brouwerij 't IJ; a brand synonymous with making quality craft beers (since 1985 to be precise) from an old municipal bath house that boasts the Netherlands' largest wooden windmill.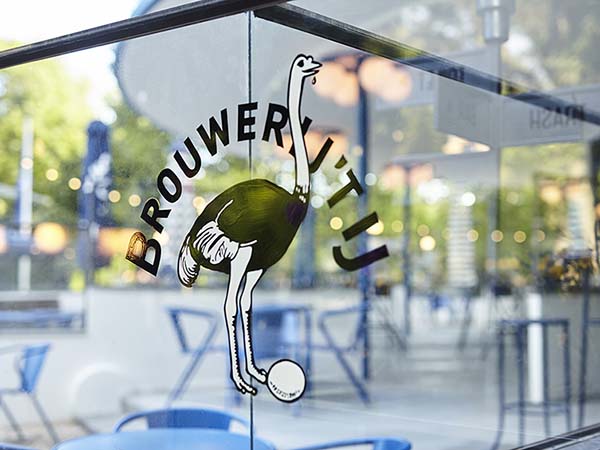 The new space for Brouwerij 't IJ is set in lush Vondelpark—the city's largest, much loved by locals and tourists alike—where Studio Modijefsky have conceived a contemporary space without compromising the building's heritage; the second tasting room for the brewers retaining much of its original bones—including steel glass frames, zinc details, granite flooring and its famed original white and blue colour palette.
Built in 1937 under the influence of the Nieuwe Bouwen movement, the building—remarkably designed to resemble a flying saucer—creates a memorable effect against its lush green surroundings; geometrical form and raw finishes quite the juxtaposition. Taking into consideration the dodecagonal shape of the floor-plan, the ground floor wooden front bar follows the symmetrical lines of the façade, entrances placed in all four corners welcoming customers from every direction. Look up and a glass rack with hand-painted beer names connects three columns, the rack's subtle steel details coming together to create a folding ostrich egg; the iconic symbol of Brouwerij 't IJ.
A staircase leads to a small restaurant room and roof terrace, the fully-glazed area enabling patrons to enjoy panoramic views whilst sipping a craft brew. Furniture includes a mix of wooden vintage chairs, custom-made tables, wooden bar stools, and glass rack and mirror accents repeated from those downstairs.
Welcoming some 10 million visitors every year, Vondelpark boasts 47 hectares and—whilst tiny in comparison—the Blauwe Theehuis building is surrounded by an impressive 1000 square metre terrace, complete with various seating arrangements and shelter that take into consideration the change in environment throughout the year;lines of string lights mounted around custom-made blue poles that reference the original structural elements holding up the teahouse's upper terrace, and a circular shape that imbibes a merry-go-round aesthetic that adds to the high-spirited vibe of this spot.
Breathing new life into a longstanding Amsterdam monument, in Blauwe Theehuis, Studio Modijefsky has mastered the art of playing homage to history whilst embracing the now.
@brouwerijtij
@studiomodijefsky