Following success stories in Amsterdam and Rotterdam, The Hague is home to the third Foodhallen venue; Foodhallen Den Haag located in the city's Haagsche Bluf area among high-end shops and differing architectural styles.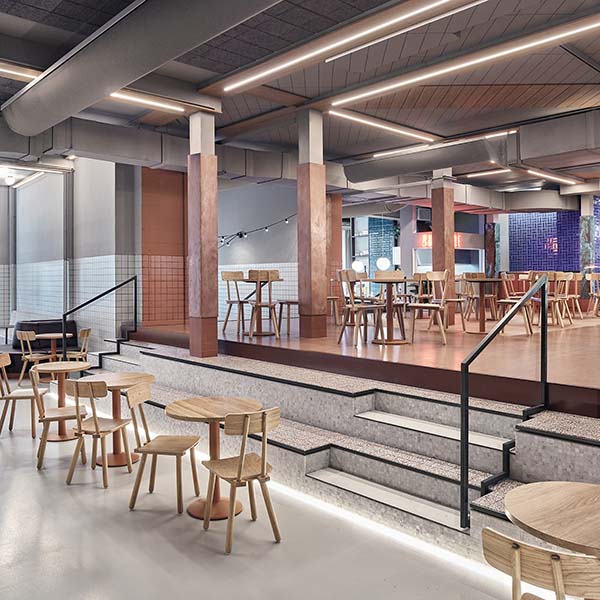 Becoming quite the household name for Dutch food lovers, and a concept enjoyed by locals and travellers alike, Foodhallen is home to a wide range of high-quality options; a place where good times are shared over good food amid good design. The latter put together by Amsterdam-based Studio Modijefsky, whose interiors for Foodhallen Den Haag are vibrant; with food courts spread across three adjoining buildings connecting multiple floor levels and irregular structural grids.
The bustling ground floor features food stalls that represent traditional merchant's stalls, each retaining the signature Foodhallen character without compromising the creativity of the brand that inhabits it. A large staircase was reinvented as a social place for people to gather whilst inviting them to explore the upstairs bar; each and every nook and cranny here turned into a spot where people will crave to hang-out in for lingering foodie afternoons or buzzy evening dinners and drinks.
Feeling more organised and brighter than the ground floor, the upper level of Foodhallen is home to a bold fountain bar made of travertine stone, turquoise oxidised copper, a light-coloured terrazzo top and custom seating elements that make customers feel welcomed and content.
Having designed the perfect modern indoor piazza, a versatile urban landscape filled with eccentric features—and filling it chock-full of tasty food options (that's everything from chicken wings or smokey burgers to sushi or falafel—Foodhallen Den Haag is guaranteed to attract in-the-know foodies near and far, time and time again.