Whether there for coffee, afterwork drinks or anything and everything in-between, new Amsterdam-West hangout, Karavaan, has you covered; the Kwakersplein venue offering a selection of food and beverage menus that seamlessly take guests from day to night in a space with serious design credentials.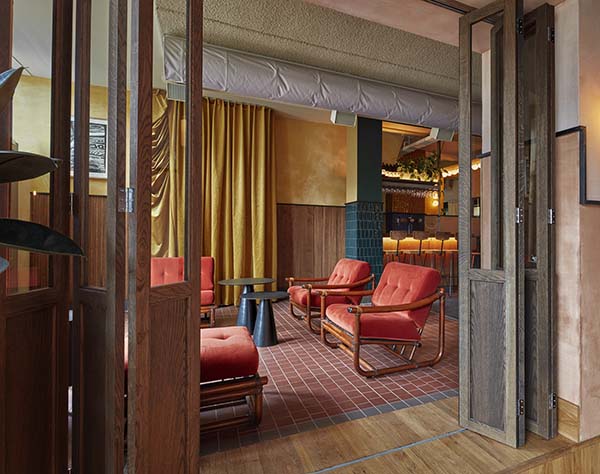 With Studio Modijefsky responsible for those interiors and a bold brand identity, this Amsterdam hotspot has been divided into different landscapes: meadow, swamp, forest, mountain and desert. Offering different aesthetic takes on the natural world, each area is unique from the other, with its own colour scheme, materials and design specifics; enabling patrons to situate themselves into their preferred zone depending on time of day or night, or reason for being there.
Located in what was once a polder (a low-lying piece of land reclaimed by building dikes and drainage) area outside Amsterdam's old city limits, Kwakersplein eventually became part of the Bellamy neighbourhood, encouraging people to migrate to the square; which is where the caravan name comes from. Its residents settling for good, the area is now rejuvenated and full of life; Karavan's 'hood revelling in the vibrancy it enjoys today.
From cozy corners to sip cocktails, bespoke seating from which to enjoy a meal among good company, to a central bar where patrons gather to start their evening or weekend, the entirety of this animated venue features great design, furnishing and good vibes. Andm like a 'karavaan', the trail designed by Studio Modijefsky allows you to discover landscapes that nobody knew belonged to Amsterdam.
@karavaanamsterdam
@studiomodijefsky